When planning a visit to the enchanting town of Hoi An, one of the most crucial aspects of your trip is finding the perfect accommodation. To make the most of your stay, in this article, we present our top five picks for Hoi An accommodation, including a hidden gem with the timeless allure of Vietnamese design.
1. Alsahar Hoi An – A Memorable Hoi An Accommodation
When it comes to Hoi An accommodation, Alsahar Hoi An stands out as a hidden gem. This unique villa is strategically located just a 5-minute bike ride from Hoi An's Old Town, making it an ideal base for exploring the town's historic streets and lively markets.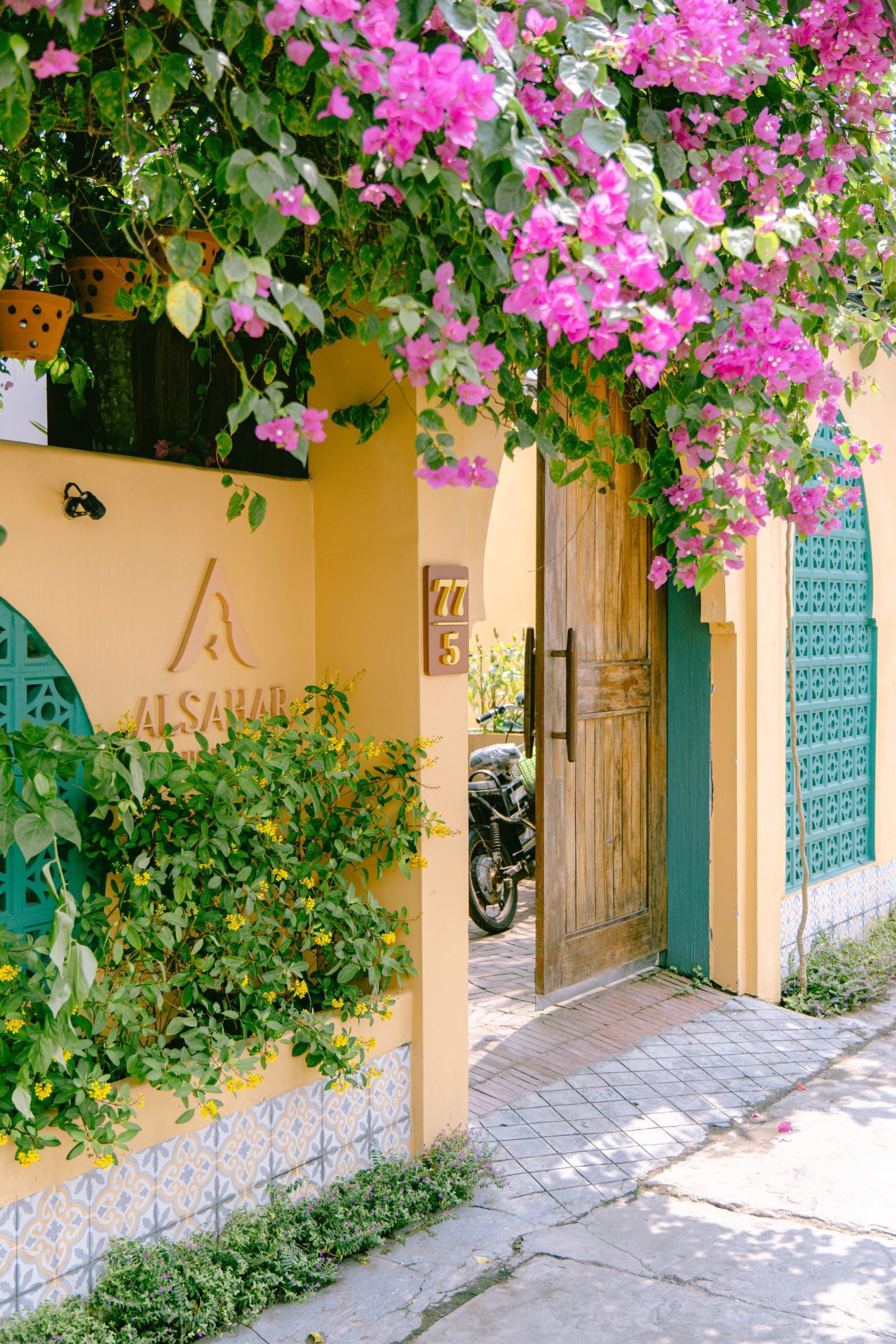 Nestled near the Hoai River, Alsahar Hoi An offers a serene and refreshing ambiance, with a constant cool breeze that enhances your comfort. What sets Alsahar Hoi An apart is its distinctive design, which beautifully combines Moroccan architecture with the timeless features of traditional Vietnamese houses. 
The result is a unique fusion of styles that creates an atmosphere of elegance and serenity. Every corner of this villa is adorned with vibrant decoration and picturesque scenery, promising a visually stimulating and relaxing stay.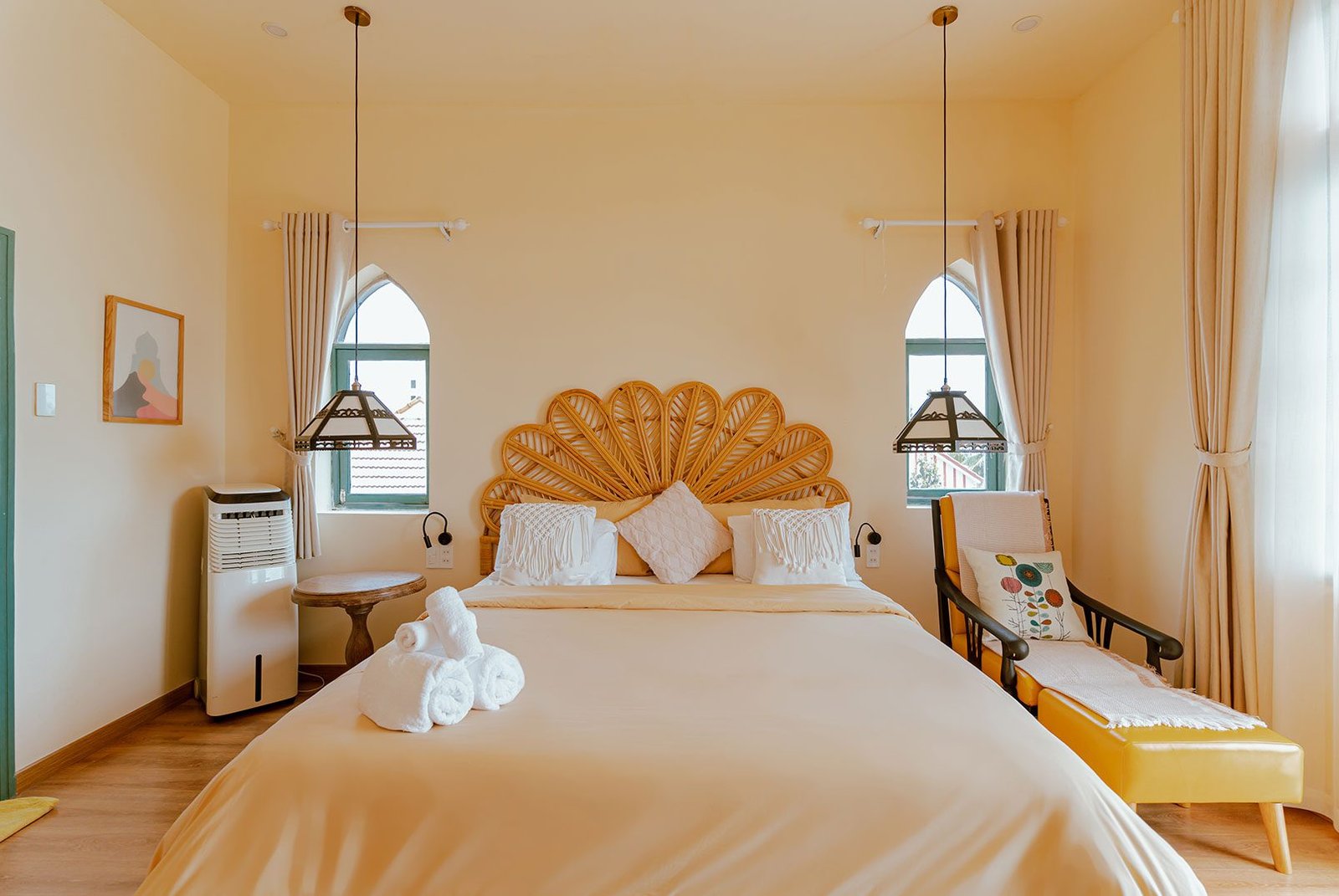 Alsahar Hoi An takes pride in providing a private and peaceful retreat for its guests. The villa boasts a smart safety system to ensure your security and peace of mind throughout your stay.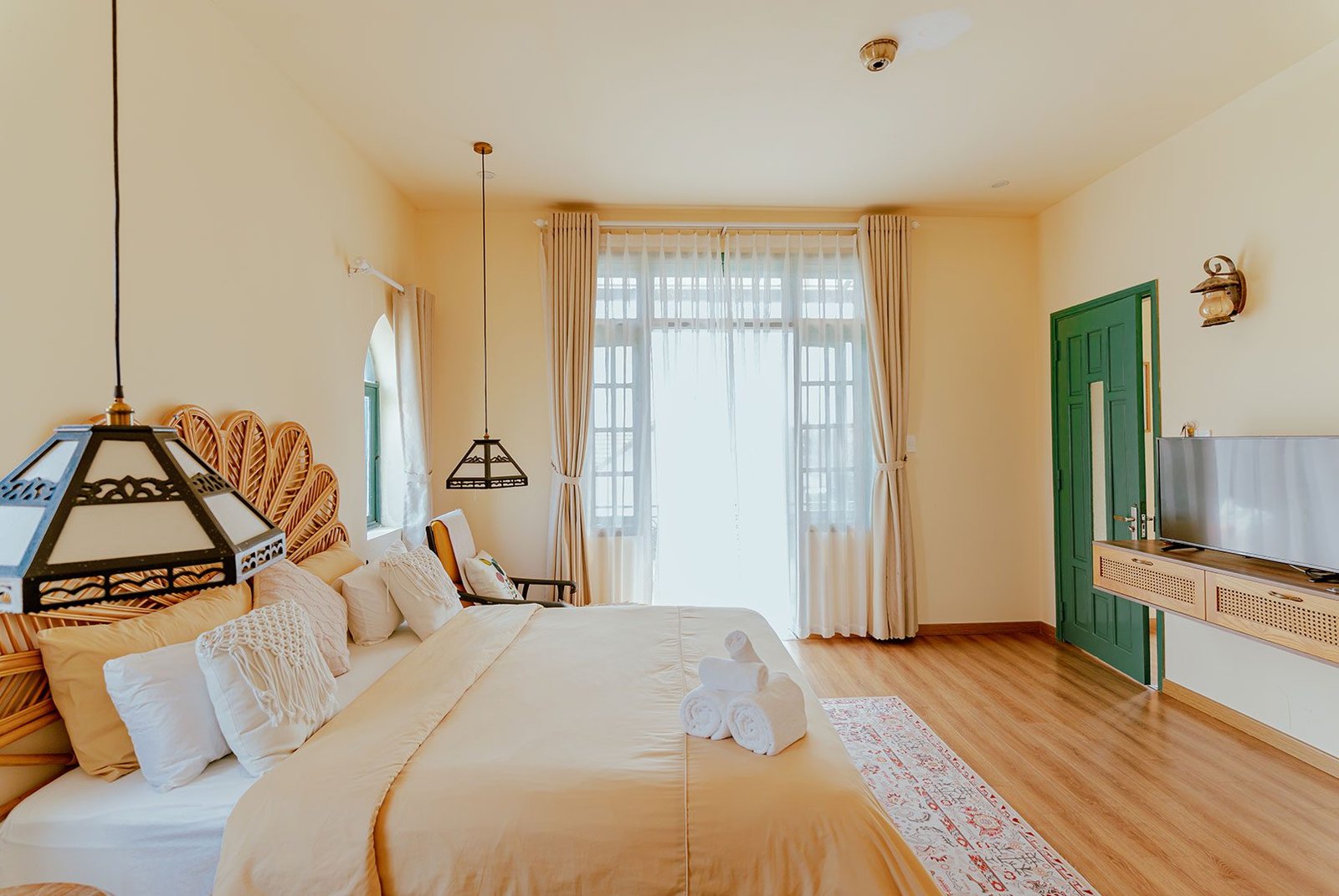 Each room is designed with your comfort in mind, featuring private balconies, private bathrooms, and all the essential amenities you need for a relaxing and enjoyable visit.
One of the highlights of Alsahar Hoi An is its luxurious jacuzzi pool, where you can indulge in relaxation and wellness. Beyond its opulent appearance, the jacuzzi pool offers therapeutic benefits through hydrotherapy, making it the perfect place to unwind after a day of exploring Hoi An's charming streets.
Begin your mornings at Alsahar Hoi An with an authentic Vietnamese breakfast, served à la carte in the serene garden. This culinary experience not only satisfies your appetite but also connects you with the rich culinary heritage of Hoi An.
2. Villa De Campagne Hoi An – A Memorable Hoi An Accommodation
Located just 1.4 miles from the pristine shores of An Bang Beach, this Hoi An accommodation offers an exquisite blend of luxury and comfort. This villa is a haven for travelers seeking a tranquil retreat with a touch of sophistication.
The accommodations at Villa De Campagne Hoi An are designed with elegance and comfort in mind. Each unit boasts a terrace with captivating pool views, allowing you to unwind and bask in the beauty of your surroundings. 
Inside, you'll find a satellite flat-screen TV, a well-fitted kitchen, and a private bathroom complete with a walk-in shower, plush bathrobes, and cozy slippers. A fridge and kettle are also provided for your convenience.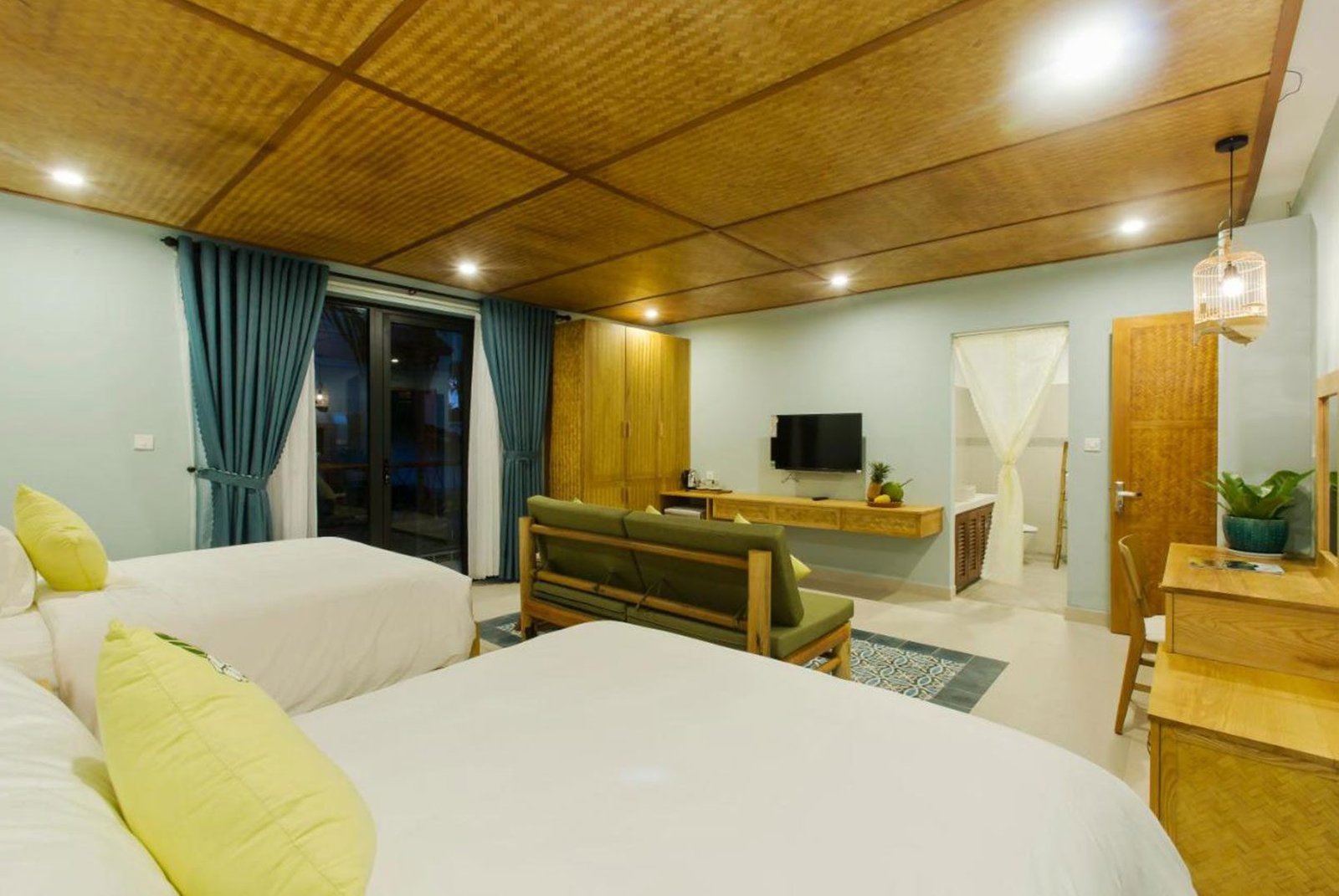 Begin your day with a sumptuous breakfast at Villa De Campagne Hoi An, where you can choose from continental, American, or Asian options. The villa's restaurant serves a delightful array of American and Asian cuisine that will satisfy your culinary cravings.
3. Hoi An Oasis Rosie Villa – A Memorable Hoi An Accommodation
Situated less than 1 kilometer from the Assembly Hall of Chaozhou Chinese Congregation and a short 19-minute walk from the Hoi An Historic Museum, Hoi An Oasis Rosie Villa offers a Hoi An Accommodation with easy access to the town's historical treasures.
This Hoi An accommodation, surrounded by lush greenery and picturesque landscapes, provides an idyllic setting for a peaceful getaway. Guests are greeted by an outdoor swimming pool that invites you to relax and soak in the Hoi An sun. Complimentary bikes are available for those who wish to explore the town's ancient streets and discover its hidden gems.
Hoi An Oasis Rosie Villa boasts a well-appointed villa with a patio and enchanting lake views. The villa features a spacious bedroom, a cozy living room, and a flat-screen TV for your entertainment. The fully equipped kitchen with modern amenities such as a microwave and fridge allows you to prepare your meals if you wish to savor a homemade delight.
See more: 5 MOST SOUGHT-AFTER HOI AN ACCOMMODATIONS FOR COZY RETREAT
4. Banana Garden Villa Hoi An – A Memorable Hoi An Accommodation
Nestled amidst the heart of Hoi An, Banana Garden Villa offers a tranquil escape surrounded by lush greenery. As you enter, the picturesque pool views set the tone for a peaceful retreat. This villa welcomes you with open arms, providing a range of amenities and services designed to make your stay as comfortable and memorable as possible.
Start your day with a delectable breakfast at Banana Garden Villa. Guests can choose from an American or Asian breakfast, ensuring that your morning is off to a delightful start. If you're in the mood for a culinary adventure, the villa's restaurant offers a range of American and Asian dishes that will tantalize your taste buds.
Some units also include a seating area and a balcony, perfect for taking in the refreshing Hoi An breeze. Whether you're traveling solo, as a couple, or with family and friends, the Hoi An accommodation has the perfect space to accommodate your needs.
5. Lucky Leaf Villa – A Memorable Hoi An Accommodation
As you step into Lucky Leaf Villa, you'll be greeted by a charming restaurant where you can savor delicious meals. The 24-hour front desk ensures your needs are met at any time of day. The villa also features a bar, a garden, a sun terrace, and a picnic area, creating an inviting atmosphere for guests to unwind.
The accommodations at Lucky Leaf Villa are designed with your comfort in mind. Each unit features a spacious seating area with a satellite flat-screen TV and a Wii U for entertainment. The fully equipped kitchen includes an oven and a dining area, allowing you to enjoy meals at your convenience.
In the private bathrooms, you'll find walk-in showers, along with plush bathrobes, slippers, and a hair dryer for your comfort and convenience. The Hoi An accommodation offers free WiFi throughout the property, ensuring you stay connected during your Hoi An getaway.
So, choose your Hoi An accommodation wisely, and let the magic of this charming town unfold before you. Whichever option you select, make sure to savor every moment of your Hoi An adventure. Thanks for reading.
Contact information:
Website: https://alsaharhoian.com/
Fanpage: Alsahar Hội An
Số điện thoại: 0905 519 971