Hoi An Ancient Town is considered as a famous tourist destination in Vietnam. Almost when thinking about traveling in Vietnam, many people will start to assume Hoi An as a must-check-in place in their discovery journey. So, what makes Hoi An Ancient Town so attractive to visitors?
History of Hoi An Ancient Town
Hoi An has been through a few centuries of history but still remains as in the very first days of its being born. Its two main historical landmarks are the occupation of the Japanese & Chinese, and the Western (Dutch and Spanish) during the 16th and 17th centuries.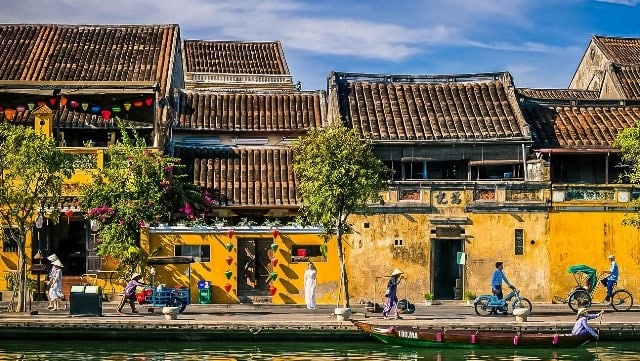 During the period of the China trade, the town was called Hai Pho (Sea Town) in Vietnamese. Originally Hai Pho was a divided town, because across the "Japanese Bridge", it used to be the Japanese settlement (16th-17th century). Then it was known to the French and Spanish as Faifo, a major international port city. 
Thanks to these days, the foreign comprehensively positive and special pastimes and culture had made deep influences on today's Hoi An.
How Is Hoi An Unique?
Whoever comes to Vietnam could not deny that Hoi An ancient town is so attractive in terms of climate, architecture, religion, festivals and so on.
1. Climate in Hoi An
Being an ancient town in central Vietnam, Hoi An has two seasons with warm weather averaging 29oC dominating for most of the year. The wet season lasts from September through to January, and the rest of the year is the dry season. Most days temperatures average between 25°C and 30°C with the hottest months being June and July.
Usually people will choose to come to Hoi An in the dry season. Many people will choose to travel in Ho Chi Minh City and then go to other places. But you should know this, it is quite difficult to fly directly from Ho Chi Minh to Hoi An. You can fly to Da Nang city first and then transfer to a car for about 30 minutes to reach this beautiful old town.
2. Architecture 
Coming here, tourists can see a series of old-architectured lanes and houses with nearly 100% cristinely left from their initial buildings with mossgrown walls, deeply plain roofs, old furniture in their cristine past arrangement, etc. 
Hoi An is fortunate to be a cultural crossroads of the Cham culture in the very first southward expansion of Dai Viet (the Vietnamese nation more than 5 centuries ago encroaching on the Indianized Kingdom of Champa, which covered much of what is now central Vietnam), the Asian (Japanese, Chinese, Indian), and the Western ones during their trading here in the 16th century.
These diverse cultural influences remain visible today. Colourful guildhalls, founded by ethnic Chinese from Guangdong and Fujian provinces, stand quietly, a testament to the town's trading roots.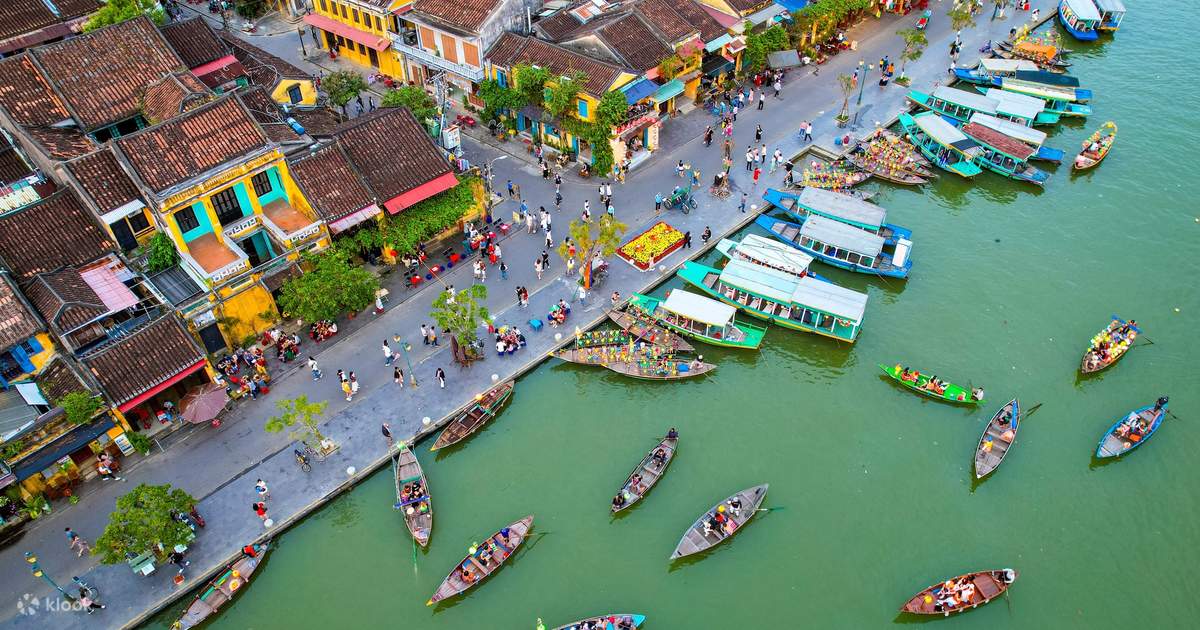 While Hoi An's old-fashioned charm is always visible, on the 14th of every lunar month modernity takes another step back. Most premium oriental and western styles of architecture are found here, making a unique ancient Hoi An, absorbing all tourists who are eager for classic beauty! Even if you are not classic styled, you still want to see how a lively ancient world can cristinely survive in this new modern and high-tech era!
3. Festivals 
Your Hoi An tour can be extremely interesting if you come on festival days. Tourists should not miss some of the great festivals of Hoi An, among which is the Full Moon Festival. It is held on the 14th of every lunar month, one night before the full moon, when the Old Town becomes even more festive than usual, active and marvelously decorated with colorful lights and lamps along every lane. Another one is the Mid-Autumn Festival held on the 14th of August lunar month. 
Last but not least, the "lantern festival", the most enchanting and special one of Hoi An, which is typically demonstrated with all colorful hanging cloth and paper lanterns on the 15th of every lunar month switched on altogether while all electrical equipment is off, leaving the Old Quarter bathed in the warm glow of colored silk, glass and paper lanterns. A sparkling, romantic and mysterious view is opened, stimulating anybody's curiosity and eye feed!
4. Religion
The 14th day of the lunar month is a Buddhist day of worship. Hoi An residents place offerings of food and incense on their ancestral altars and visit one of Hoi An's many pagodas. The scent of incense and the sounds of people singing adds to the town's enchanted atmosphere. Visitors will get a rare glimpse into another era – the very far away period of our ancestors, and discover it themselves.
5. Traffic
Traveling to Hoi An, you will not find yourself in the same situation of busy traffic like in Hanoi or Ho Chi Minh City although motorbikes still play an important role in the traveling of the locals. In some roads inside the town, motorbikes are even prohibited in a certain time, so that crossing the street here raises no fear to tourists.
What To Eat in Hoi An Ancient Town?
Hoi An's delicacies are plentiful and particularly tasty and cheap. Let's take an example, one of the most popular ones is Cao lầu, a dish of rice noodles somehow closer in texture to pasta. What is its secret? 
It is the water used to make it, being collected from a special well in the city. The noodles are topped with slices of roast pork, dough fritters, and lots of fresh herbs and veggies. I think you should try one of these, or else you will soon regret it! 
Let's see, you are sitting on stools, eating a bowl of Cao Lau with wooden chopsticks, and sipping ice cold "White Coffee with vinamilk"! Oh, this is really an interesting adventure!
What to See in Hoi An Ancient Town?
Since Hoi An is an old Town, its places of interest are of full historically classical meaning and image. Hoi An's symbol, the most popular remnant is the Japanese Covered Bridge (Chua Cau or Lai Vien Kieu), on the west end of Tran Phu Street. The bridge was constructed in the early 1600's by the Japanese community.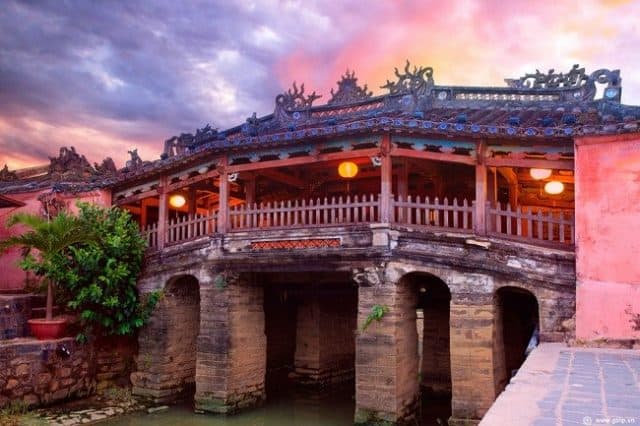 Tourists should spend time on visiting Quan Cong Temple, Museum of Culture. Many ancient style-oriented architects come here to have a direct look into the ancient houses of the town, among which are Phung Hung House, just west of the Japanese Bridge, Quan Thang House, or Tan Ky House.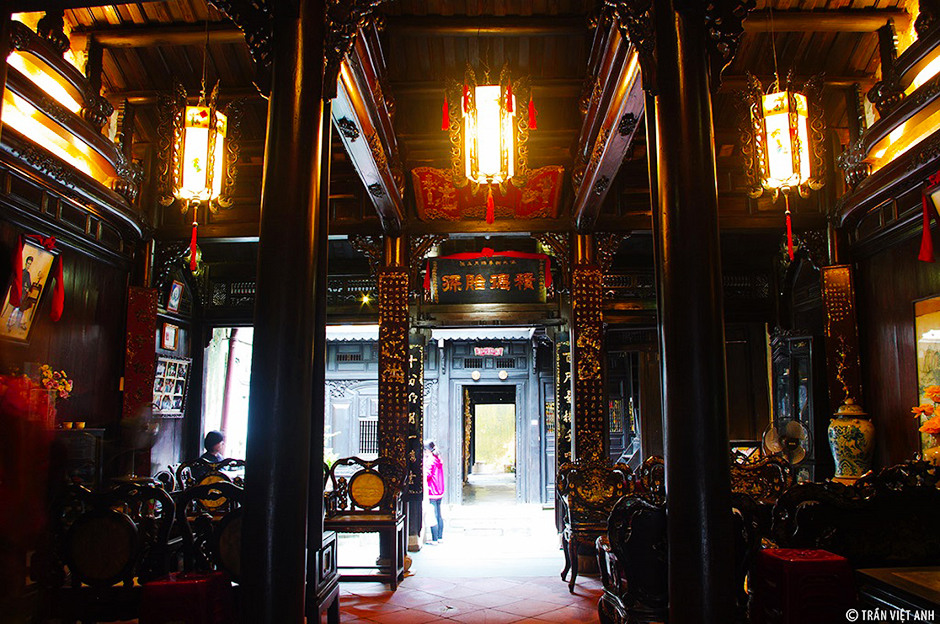 The design of the houses shows how local architecture incorporated Japanese and Chinese influences. Cantonese Assembly Hall (Quang Dong) has a calm courtyard with an ornate statuary. You could take a peek at the half-hidden backyard and its kitschy pastel dragon statues. 
Hokkien (Fujian) Meeting Hall (Phuc Kien) and Chinese All-Community Meeting Hall (Trieu Chau), are also spanning the block. If you are Buddhist, there are a lot of pagodas to visit. Ong Pagoda, Quan Am Phat Tu Minh Huong Pagoda, etc. are premium places to get in.
Today, Hoi An is also known as a shopping paradise that attracts tourists towards its wonderful souvenirs, handicrafts, antique pieces, silk materials, art paintings and so on.
How to Get There
In order to get to Hoi An Ancient Town, you can choose some kinds of transportation including train, bus, taxi or even plane if you are not near the Da Nang city. 
If you go by bus or by train, you will have to catch "xe om" after that to reach the center of the town. If you go by taxi, you will not need to do that, however, the price is much more expensive. And if you have a car or motorbike and you can drive on your own from Da Nang, it may be more interesting because you can have a chance to enjoy the fresh air and spectacular view along the way.
Where To Stay?
Alsahar Hoi An – THE MIRACLES IN HOI AN
Location: 77/5 Nguyen Duy Hieu, Cam Chau, Hoi An
Tel: 0905 519 971
Are you looking for a place to stay that is both near Hoi An Ancient Town and other popular tourist attractions? Alsahar Hoi An is exactly an ideal place that fits the above criteria. Villa is located only 2km from the old town and only takes about 10 minutes to move to Cua Dai beach. Alsahar is designed as a sandy Moroccan castle under the beautiful blue sky of Hoi An.
Villa has up to 7 bedrooms, maximum capacity is from 14-16 people. Every corner of the house is decorated extremely magically, affirming that there is no shortage of photos of thousands of likes after this holiday!
The gate in Alsahar is considered a very favorite check-in point for young people. The gate is large and wide, along with a truss of bougainvillea on the yellow sand wall of the Ancient town. This deserves to be one of the unique and unique gates in Hoi An. Behind this gate is a clear blue jacuzzi pool. Book the beautiful floating tray and dress up the cool swimwear sets right away.
In addition to the above, each room at Alsahar Hoi An has its own bathroom, snack bar, smart TV with Netflix Premium, Free Wifi, an air-conditioner, a ceiling fan and a big wardrobe. You can also freely use the villa's bicycle to walk around and explore Hoi An.
(This article is referenced from vietnamdiscovery.com)