Hoi An Ancient Town has long become a beautiful and attractive tourist destination. The things that make tourists remember this place forever are the ancient and warm atmosphere of Hoi An, the friendly, likable people and countless other things. Now, come with us to discover Hoi An!
1. About the Ancient Town in Hoi An Vietnam
1.1. Introduction of Hoi An Ancient Town
Just downstream from Thu Bon River, Hoi An Ancient Town is located in the heart of Quang Nam province, about 30 kilometers to the south of Da Nang city. Not only is it a famous tourist attraction, but also an architectural relic complex.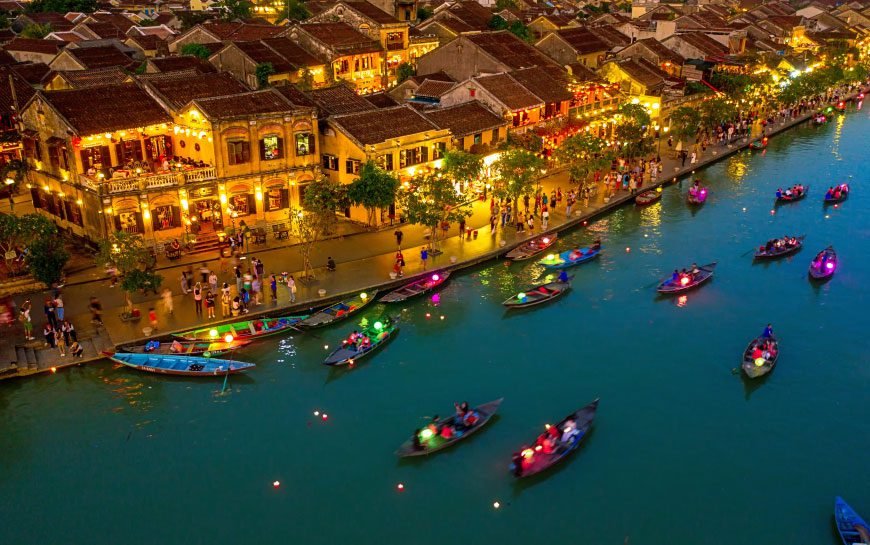 Reflecting a unique cultural fusion, Hoi An old town was listed as a World Cultural Heritage by Unesco in 1999. It is a living museum of world-wide construction designs and urban lifestyle. From the 15th till the 20th century, Hoi An was an exclusive trading port between European and Asian businessmen. This is where Chinese, Japanese, and Portuguese traders have left their own vestiges via diverse architecture patterns. To this day, Ancient Town Hoi An Vietnam remains notably well-preserved, almost in its original state, retaining its pure and oriental medieval style.
1.2. Hoi An Ancient Town – Location, opening hours, and entrance fees 
If you just want to take a chill walk around the old town, enjoy Hoi An's specialties or take beautiful pictures, there is no entrance fee. However, there are several cultural monuments that require entry tickets:
Cultural constructions: Quan Cong Temple, Cau Bridge, etc…

Ancient houses: Phung Hung ancient house, Duc An ancient house, etc…

Church: Church of the Tran family, Church of the Nguyen family.

Museums
In addition, tickets also include a wide range of activities, namely folk games, street performances (every day from 7pm to 8.30pm), art shows (at 10.15 a.m. and 3.15 p.m. daily). The ticket prices for Vietnamese and foreigners differ, which are 80,000 VND/person and 150,000 VND/person respectively. 
Don't hesitate to buy tickets as the experience will provide deep insights of the town's history. Moreover, the money contributes to the repair and preservation of the old town for future generations.
2. How to get to Hoi An Ancient Town from Da Nang? 
Hoi An is only 30 kilometers from Da Nang, so the most convenient route will be to come to Da Nang, then move from Da Nang to Hoi An by taxi or ride a motorbike by yourself.
How to get to Da Nang?
Currently, national airlines such as Vietnam Airlines, Jetstar, and Vietjetair all have direct routes from Ho Chi Minh City, Hanoi to Da Nang. Keep in mind that if you want cheap tickets, you should book about 3 to 6 months in advance.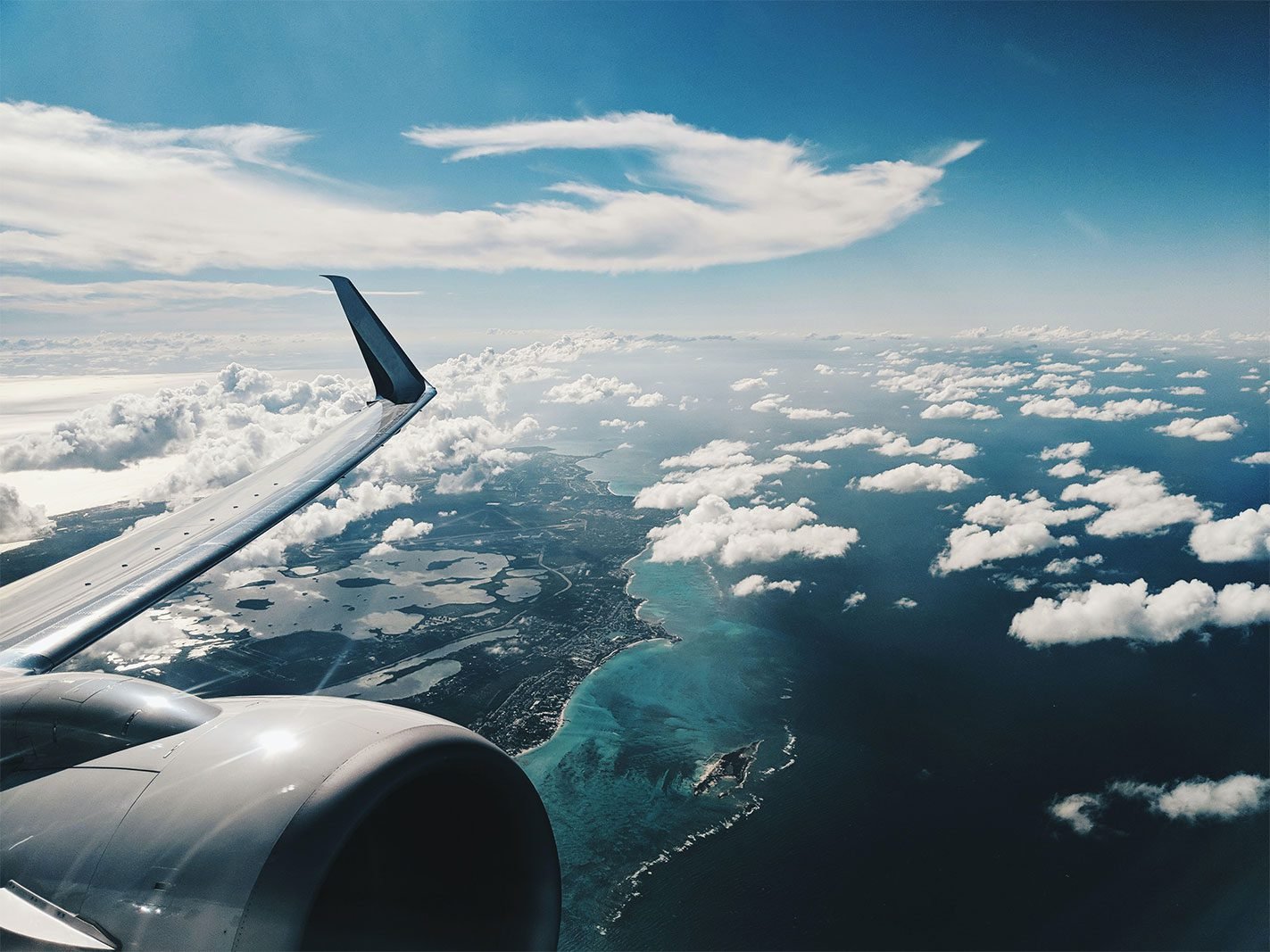 Train is a slightly cheaper option compared with traveling by airplane. From Hanoi or Saigon, there is a railroad-track to Da Nang (North – South route). The fare ranges from 400,000 VND to 1,200,000 VND depending on the train and seat class. It takes roughly 14 to 20 hours to travel from these two cities to Da Nang.
You can rent a motorbike in Da Nang to ride to Hoi An for 120,000 – 150,000 VND/day. Follow Vo Nguyen Giap road alongside the coastline from My Khe beach to Cua Dai beach. After arriving at Cua Dai, you will see an intersection, turn right to Ancient Town Hoi An or turn left to An Bang beach.
This is an extremely economical means of transportation, but not necessarily the most convenient. From Da Nang, there is a bus route that runs directly to Hoi An. The buses depart continuously every 10 minutes. However, around 5:30 pm, the last bus will leave Hoi An, so if you plan to return to Da Nang in the evening, you need to pay special attention to the time.
If you go in a large group, this will be the most convenient and reasonable choice. The price for a ride from Da Nang to Hoi An will be about 200,000 VND – 250,000 VND.
3. Where to visit: Attractions in Ancient Town Hoi An 
3.1. Hoai River
Hoai River is a tributary of Thu Bon river which flows across the Ancient Town and connects to other tourist attractions. A chilling boat trip on Hoai River is a popular activity on tourists' must-do list. It is highly recommended that you go to Hoi An Ancient Town at night as with the lights from the houses, the whole riverbank becomes a glowing fairy land. Visitors can clearly feel the peaceful, gentle, and romantic vibe of Ancient Town Hoi An. 
Lanterns releasing on Hoai River is also a meaningful ritual as it is to express gratitude to ancestors and to wish for a prosperous year. Full moon days (the 1st and 15th of the month according to the lunar calendar) arewhen "the old town trades its electric lights for traditional colorful lanterns". Hoai River twinkles with the soft light of the lanterns, while thousands of candlelit paper flowers float across the water at night. 
3.2. Japanese Covered Bridge (Chua Cau)
Your trip to Hoi An will be incomplete if you miss out on the Japanese Covered Bridge, one of the most alluring attractions in Hoi An. Also known as a Japanese Temple, the Covered Bridge is located adjacent to Nguyen Thi Minh Khai Street and Tran Phu Street. The bridge is an excellent example of traditional Eastern architecture. Despite being built by Japanese merchants around the middle of the 16th century, through restoration, the Japanese Covered Bridge has become a harmonic architectural combination between Vietnamese, Japanese and Chinese cultures. 
From the distance, the Covered Bridge stands out with a rainbow-like softly curved roof brightening up a corner of the ancient yet modern, quiet yet vibrant old town. The entire pagoda and bridge are made of vermilion wood, carved with many meticulous Japan-infused details. In the evening, when the lanterns are lit up, the bridge's shadow is imprinted on the water surface, shimmering in the midst of the hustle and bustle of Hoi An.
3.3. Assembly Halls
Built in 1885, the Cantonese Assembly Hall is located in the center of Hoi An old town. This assembly hall is a harmonious blend of materials of wood and stone. This place conserves many ceramic artifacts, which simulate and document the cultural life of the Cantonese community in Hoi An.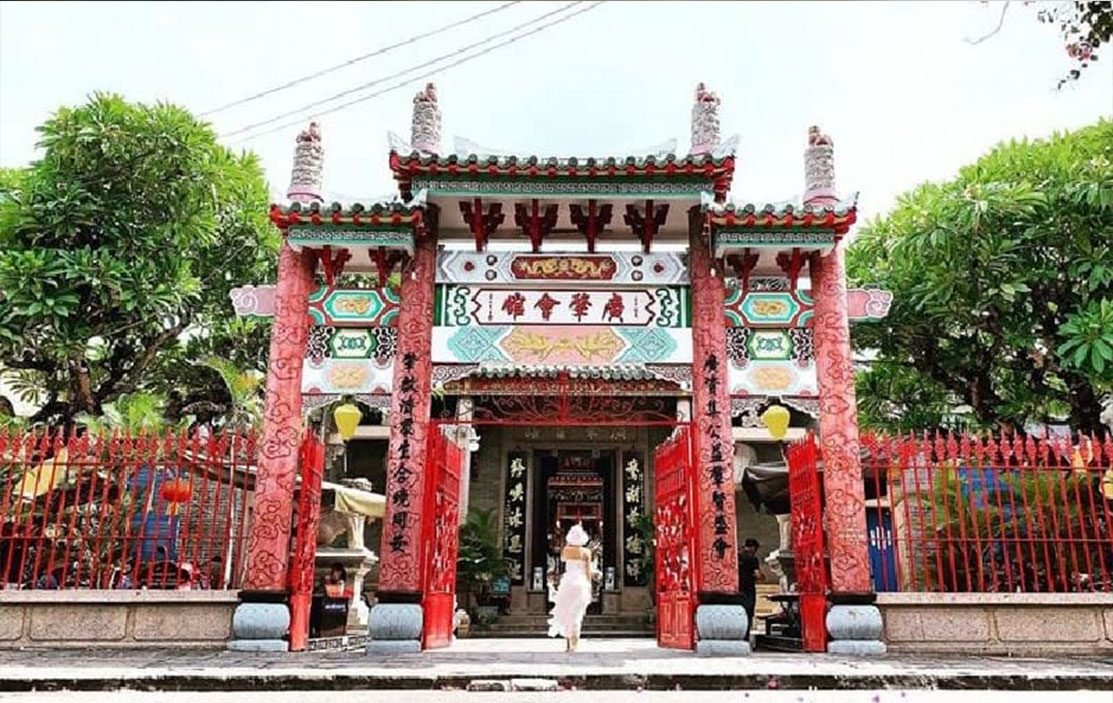 Among the 5 ancient assembly halls, Fujian, located at 46 Tran Phu, is the largest and most well-known. Visitors tend to light large incense rings and often hang wishing paper sheets to pray for health and fortune. The Hall was granted a national historical – cultural relic certification (February 17, 1990), adorning Hoi An ancient urban architecture.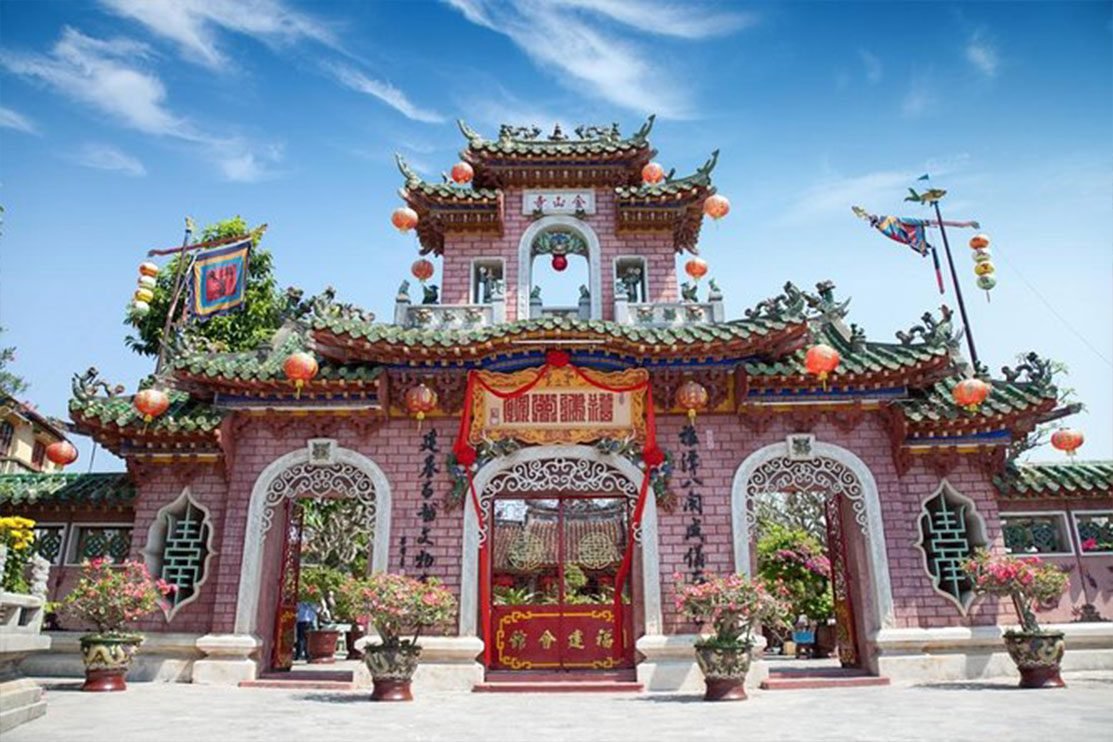 Trieu Chau Assembly Hall was built by the Chaozhou community in 1845 to worship the god Phuc Ba for safe voyage and smooth sailing. Architectural motifs are decorated according to the folk legends, many of which are embossed with porcelain.
3.4. Ancient houses
This was the first house to be honored as a national heritage site and is also frequently visited by various governors. Over centuries, even after the historic flood of 1964, the ancient house remains miraculously intact. The wooden East Asian-inspired decorative patterns in the house are delicately carved, indicating the exchange between different architectural styles.
The house is completely built of expensive ironwood, bearing a traditional beauty and displaying the owner's well-off life. Phung Hung Old House is the guardian of the rich knowledge about the merchants' lifestyle in Hoi An old trading port. This ancient house was granted the certificate of historical – cultural relic in June 1993. 
Built approximately around 300 years ago, Quang Thang House is definitely one of the oldest houses in Hoi An. Walking in, you can easily notice stunning wood carvings of peacocks and flowers on the walls. Those sculptures are the products of the Kim Bong carpentry village's craftsmen, who are renowned for their sophisticated craftsmanship of the Hue garden houses. 
3.5. Sacred temples
Quan Cong Temple, also known as Kong Pagoda, is one of the biggest Hoi An tourist destinations with great spiritual and religious significance. Tourists are captivated by the extraordinary classical Chinese-influenced architecture of the temple. The ancient shrine with mossy tiled roof has vividly portrayed the traditional charm of cultural heritage in Hoi An. 
Since its renovation, Ba Mu Pagoda has become one of the most popular check-in locations. Situated right in the heart of Ancient Town Hoi An, the pagoda is endowed with exquisitely carved golden walls, bunches of flowers blooming with shimmering colors, a clear lake reflecting the aquarium-blue sky. Blessed with antique charm and an open space, the pagoda is the perfect background for visitors to take impressive photos.
Minh Huong Pagoda is a place of ancestor worship for Chinese people living in Hoi An. It is the only remaining Buddhist temple in the heart of Ancient Town Hoi An. It preserves substantially intact wooden sculptures carved by the artisans of Hoi An Kim Bong carpentry village. 
3.6. Hoi An Central Market
Unlike the calmness and tranquility of the old town, Hoi An Central Market is a distinct highlight of the ancient town, attracting a large number of tourists thanks to its bustling and lively atmosphere. The Market itself is divided into several areas for fresh seafood, vegetables, fruits, souvenirs… but perhaps the most appealing place must be the food court. Here, visitors will have the chance to try various delicacies of Central Vietnam cuisine such as Cao lau, Quang noodles, etc.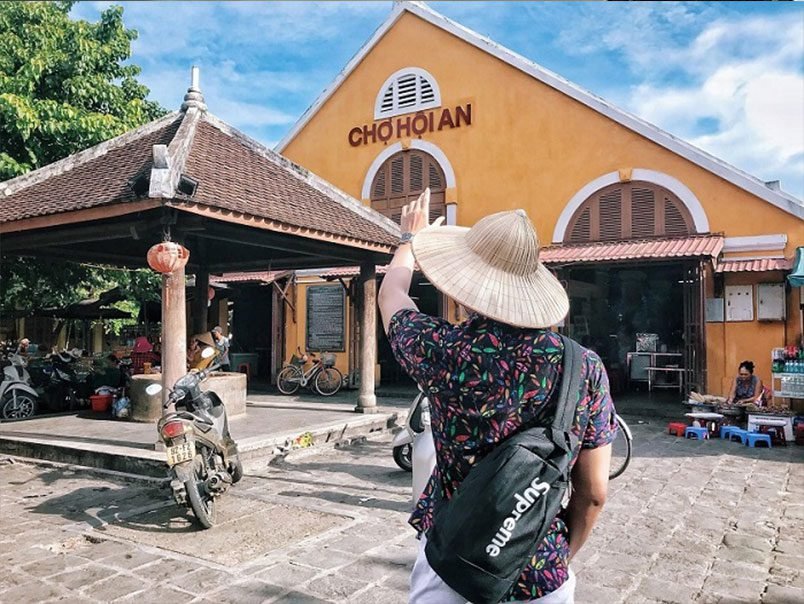 4. What to eat: Must-eat food in Old Town Hoi An
Banh mi – The most famous Vietnamese street food
Despite being a common household dish, Hoi An Banh Mi has a very distinct taste, so much that it is considered as "the best bread in the world". Among many, Banh Mi Phuong is the most popular food shop. The menu here is extremely diverse with more than 20 different fillings: burgers, spring rolls, pate, chicken with avocado and salad… However, the selling point of these small bread loaves is the special homemade sauce. Each loaf costs around 20,000 – 40,000VND depending on the fillings.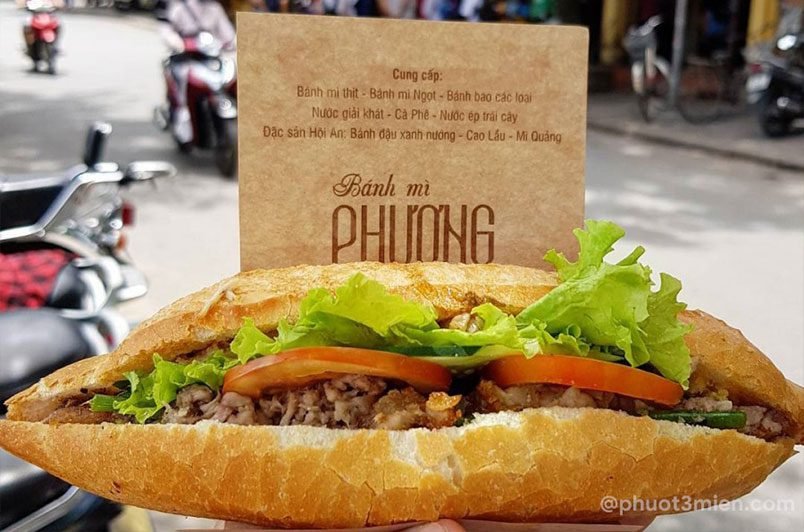 Quang noodle – A signature dish of Hoi An cuisine
Quang noodles is believed to be the "soul" of Da Nang and Quang Nam cuisine. The perfect combination of soft rice flour noodles, delicious chicken with rich broth is what makes this dish irresistible. The price for each bowl is about 15,000 – 25,000VND.
Cao Lau – A yummy Hoi An specialty in the Ancient Town
Cao Lau has a Chinese-influenced taste with golden noodles, topped with char siu, deep-fried pork skin, and bean sprouts, drizzled with a bit of gravy. Chilling on the balcony watching Hoi An streets with a bowl of Cao Lau in front of you is truly an unforgettable culinary experience that only Hoi An can bring to visitors. Relatively more expensive compared to other dishes, a bowl of Cao Lau costs about 30,000 – 60,000 VND.
Chicken rice –  A tasty Vietnamese food in Hoi An style
The taste of Hoi An chicken rice is one-of-a kind thanks to its special sauce. The light yellow sticky rice grains, delicious chicken with sweet and sour pickled salads never fail to amaze diners. With only 20,000 VND, you can order a delicious Hoi An shredded chicken rice dish.
Banh Dap (smashed rice pancake) 
Treat your taste buds with Banh Dap! The crispy rice pancake covered with mussels are dipped with delicious seasoned fish sauce. The mussels here are particularly juicy as when stir-fried, the fishy taste disappears and is replaced with the sweetness of the seafood. The price usually ranges from 15,000 to 50,000 VND.
Bánh Xèo (Vietnamese Pancake)
Tourists are captivated by the crispy golden pancake and the savory flavour of fresh shrimp and meat filling. The sauce is a mixture of rich soy sauce and fragrant peanuts, which can please even the most demanding customers. It will usually cost you 10,000 – 20,000 VND/serving.
5. Where to have a coffee Hoi An?
For some, Faifo Coffee or Faifoo Hoi An has the best coffee in Hoi An. It is piping hot, strong and full of flavor. The full range of Western and Vietnamese styles is available – cappuccino, late, espresso – even ristretto – alongside the standard Vietnamese options including egg and coconut.
But it's the views from the top floor that have visitors flocking. Rated as offering the best panorama over Hoi An Old Town's rustic rooftops, Faifo Coffee is a must see location for 'instagramers'. Be warned, queues of happy snappers may form around the rooftop entrance.
The heart of Faifo Coffee is found below the rooftop splendor in a sympathetically renovated building in the Old Town. The ground floor is perfectly set up for people watching from the front windows, the second is relaxed and breezy with large lounges. These spaces have been tastefully decorated – the net result is a dark, romantic setting with a touch of mystery, the constant march of 'instagramers' aside.
6. Where to stay: Accommodations near Hoi An Ancient Town
Alsahar Hoi An – THE MIRACLES IN HOI AN
If you're looking for a private, comfortable, high-quality resort villa, this is exactly the place you should be. From afar, Alsahar Hoi An impresses visitors by the design of a Moroccan castle. The combination of bright red tiled roofs, emerald green pointed arched doorways on a sandy background creates associations of a distant Mediterranean oasis.
Alsahar Hoi An is designed to be friendly and in harmony with nature. It is not difficult to see trees in the villa's premises. From the garden, to the corner of the house, to each bedroom, to the kitchen, the green color of trees always appears to make people's minds more peaceful and happy.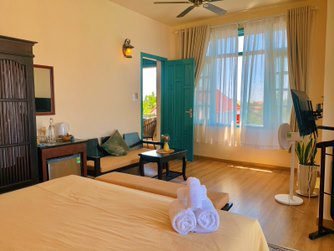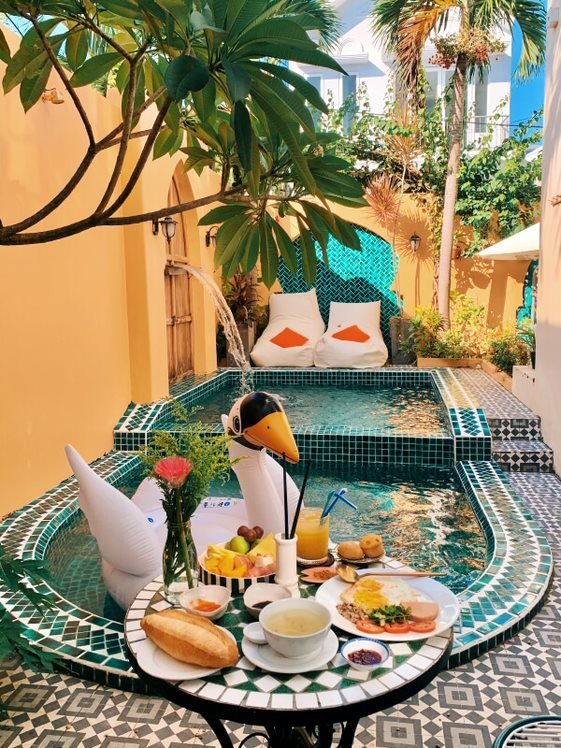 When coming to Alsahar, you are completely immersed in your own world because the house is designed to be separate from the outside environment, extremely quiet and peaceful. In particular, you also treat your body, dispel fatigue with a jacuzzi hydromassage pool and soak in a waterfall pool in the cool, clear green garden of areca trees. The experience is further enhanced by having fun with the flamingos together, sipping some cake and afternoon tea, talking about fun stories and taking a few photos to save memories.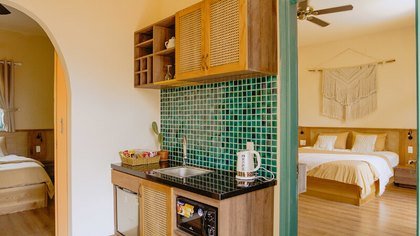 Villa has all 7 bedrooms, maximum capacity of 14-16 guests. All rooms have a balcony overlooking the garden and jacuzzi. The special thing is that also from here, you can see the Thu Bon river in the distance. Each room is equipped with a private bathroom, smart TV with Netflix Premium, Free Wifi, an air-conditioner, a ceiling fan and a big wardrobe. In addition, catering services and BBQ party set up are also available. Just contact the reservationist and inform the housekeeper of your plans, let the rest to the staff to take care of you.
(This article is referenced from vinpearl.com and hoiannow.com)