One of the interesting things when traveling in Hoi An Ancient Town is the extremely famous craft villages here. We will introduce to you '6 FAMOUS CRAFT VILLAGES IN HOI AN ANCIENT TOWN', check it out now!
1. Kim Bong Carpentry Village
Highlights:
Spending 10 minutes going across the Thu Bon river from Hoi An Ancient town, you can find Kim Bong Carpentry Village. For more than 600 years, Kim Bong Carpentry Village has provided quality woodwork products for the country, from royal tombs in Hue to high-rise buildings in big cities like Hanoi or Saigon. Its style is believed to be the finest combination of Japanese, Chinese, and Cham kingdom's style.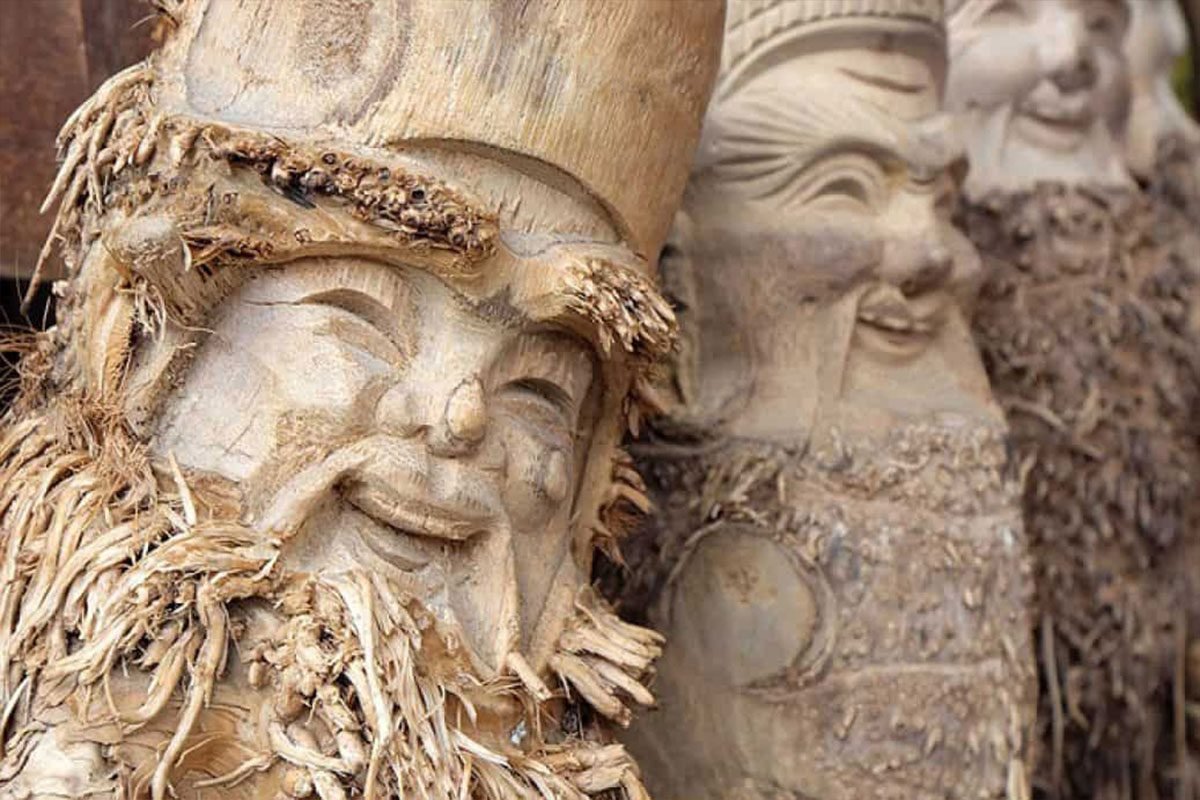 Kim Bong village has formed 3 groups of artisans: shipbuilding, civil wooden furniture, and ancient architectural construction so it can satisfy various demands. These groups contribute to vigorous development of the village and help to maintain the traditional work and the rank of master through many years. 
What to do:
Kim Bong Carpentry Village is so famous for handiworks which are available to Hoi An visitors. Visiting the village, you can find the two main streets to shop for fine woodwork to bring home. With the clever and skillful hands of artisans, they turn wood into water buffaloes, bamboo shaped carved plates, and rustic wood pig,…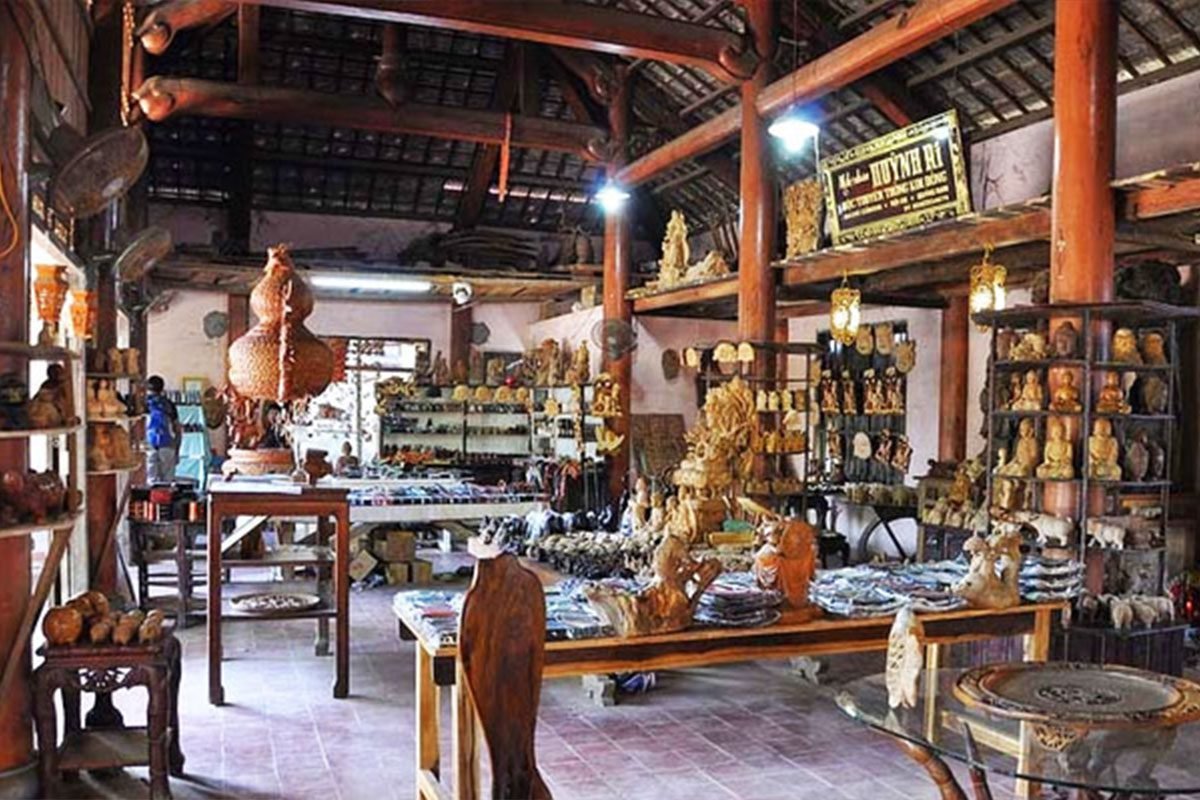 You also can meet Mr Duong Ngoc Sang who is an expert in making gongs and adjusting the sound of this instrument. Considered as a "living treasure" of the village, he has a lot of things to share with the tourists.
Enjoy the fresh and peaceful atmosphere of the countryside will help to blow away your stress. And the smell of wood and paint everywhere will surely impress you a lot.
Tips:
You don't have to pay an entrance fee to enter. It takes a 10-minute boat ride from Hoi An Ancient Town to Kim Bong village.
2. Phuoc Kieu Bronze Casting Village
Highlights:
Existing for more than 400 years, Phuoc Kieu Bronze Casting Village is one of the oldest traditional craft villages in Hoi An. First established by followers of feudal lord Nguyen Hoang, it was expanded to make weapons, and items used in royal ceremonies and government seals. Until now, the villagers still keep the fire burning in the forges and it is now famous for its bronze ceremonial artifacts and decorative items. 
Currently, the village has more than 20 families with around 100 laborers. They have casted over 4000 gong sets for highland ethnic minority villages. Noticeably, the 2 artisans Duong Ngoc Dung and Duong Ngoc Truyen are two famous people in the village who completed the project of a 1.8 ton great bell in 2006. The craftsmen have made products like bells, incense burners, ancient vases, gong-like music instruments, lamp holders,…
Just 9 kilometers away from Hoi An Ancient Town, it is easily accessed by bicycle or motorbike. The village will be a great opportunity to see the spiritual life of the local people through cooking products and worship products,…
What to do:
The bronze products can be found on the road side so you can buy a bronze piece to bring home after bargaining. There are various types and the price ranges from VND 100,000 to millions of Vietnam dong.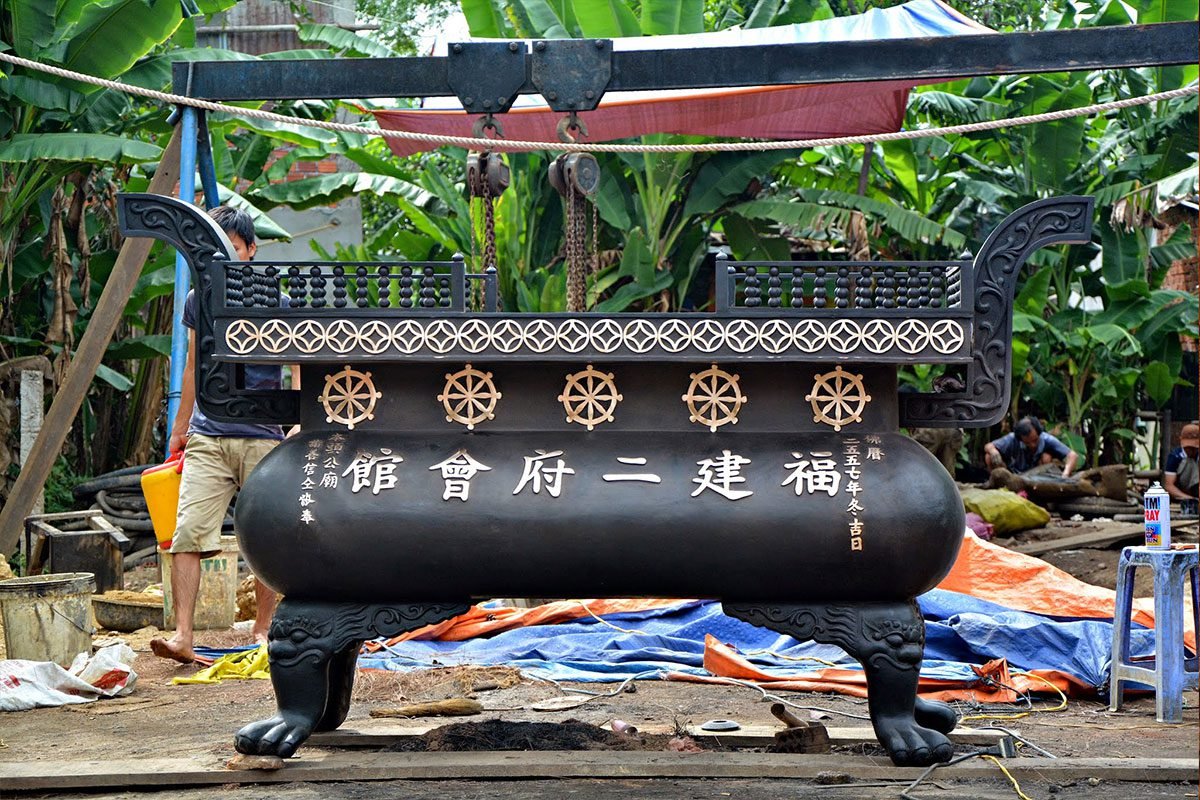 Apart from buying souvenirs, you also can participate in the process of making bronze items to understand how careful the craftsmen are to make a product. 
Another highlight and unique product of this village is gongs. The artisans will perform with gongs so you can listen to the special sound and also the soul of Phuoc Kieu Bronze Casting Village.
Tips:
You should bring a hat, face towel, and camera.
3. Xa Duong Lantern Village
Highlights:
Visiting Hoi An ancient town, you may get lost with thousands of colorful lanterns at night. Do you know where these lanterns are made? It's Xa Duong Lantern Village where the sparkling lanterns are made by hand. It can be said that there is nowhere else that can make lanterns as good as Xa Duong village.
Hoi An people consider Xa Duong as the lantern-making ancestor. In more than 400 years, its products and designs have been greatly improved and diversified. In the past they only made lanterns and unicorn basic heads. Now, the lanterns have so many shapes like diamond, sphere, tetragon, hexagon, and circular cylinder. 
You can find many lanterns on the streets of Hoi An ancient town, but remember that they are made in this village. These lanterns are symbols of Hoi An which create a romantic beauty of this town. 
What to do:
Buy lanterns for friends and family. Hoi An people believe that hanging lanterns will bring happiness, luck, and wealth. So they will be meaningful and awesome souvenirs and also help remind you of the trip to this ancient town and Xa Duong Lantern Village.
Join a lantern making class. The class is an amazing way to learn about the traditional craft techniques and Vietnamese culture. You will learn the process of making lanterns from choosing silk for the screen and bamboo for the frame. When completed, you can bring these unique hand-made lanterns home.
Tips:
The best time to visit Xa Duong Lantern Village is on the 14th day of each lunar month when they celebrate the monthly lantern festival. You can admire the stunning lantern view and put a lantern on the Hoai river at night.
More: 8 BEST THING TO DO IN HOI AN ON TET HOLIDAY
4. Tra Que Herb Village
Highlights:
Another name to be listed in the most famous traditional villages in Hoi An is Tra Que. The name of the village means "cinnamon tea". It was established more than 300 years ago when the villagers worked as fishermen for living. After finding out the advantages of rich fertile soil, they began to plan herbs and vegetables. So why is this vegetable so special? Its produce are freshest and cleanest thanks to using Tra Que lagoon's seaweed manure. The farmers say no to using harsh chemicals and toxins.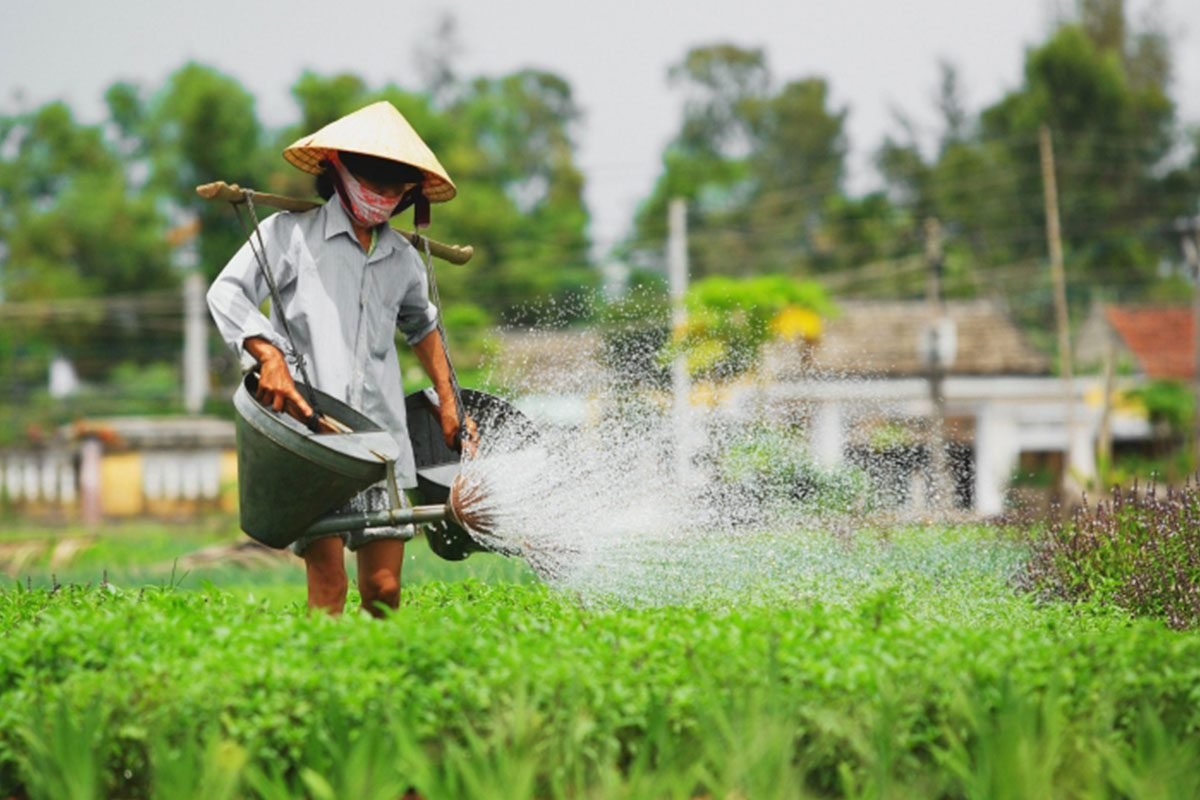 The village is home to about 200 families and it is attractive with its peaceful atmosphere and lush green farming area. Although it is just a small village, it plays an important role in providing vegetables to many restaurants and households in Hoi An. The farmers use their special techniques to produce the highest quality vegetables. They do their best to earn around VND 200.000 (around USD 8.6)/ day.
There are up to 41 kinds of herbs and vegetables like water spinach, winter melon, turmeric,…grown by the villagers. For some kinds, it only takes 20 days from seeding to harvesting. Their distinct flavor is well-known and preferred by most Hoi An people.
What to do:
Join a cooking class: Tra Que has its own restaurant called Waterwheel. The owner of this restaurant is experienced and skilled in cooking. They are willing to share their local techniques and recipes. The best thing is that you can cook the freshest ingredients which have been picked up from the local farm that day.
Make rice paper. You may know the rice paper because it is used to wrap in many Vietnamese dishes, especially the spring rolls. If you don't know how the rice paper is made, there is a workshop in the village where you can learn every step of making, from rice grinding, to boiling and stretching, to drying.
Tips:
You should try out a dinner with these dishes: "Banh xeo", papaya salad, and three friends at an organic farm in this village.
5. Thanh Ha Pottery Village
Highlights:
Thanh Ha pottery village, which is around 2 kilometers, remains a less-known tourist attraction. To get to this traditional craft, you can get on a bus or a boat from Hoi An Ancient Town. Visiting Thanh Ha village, you can get to know its long-established history, and see how local artisans have preserved the pottery making tradition.
Thanh Ha pottery village has gained its reputation from the late 15th century when the Northern people migrated there in hope of starting a new life. The pottery craft experienced a vibrant development in the 18th century thanks to Hoi An Port's prosperity.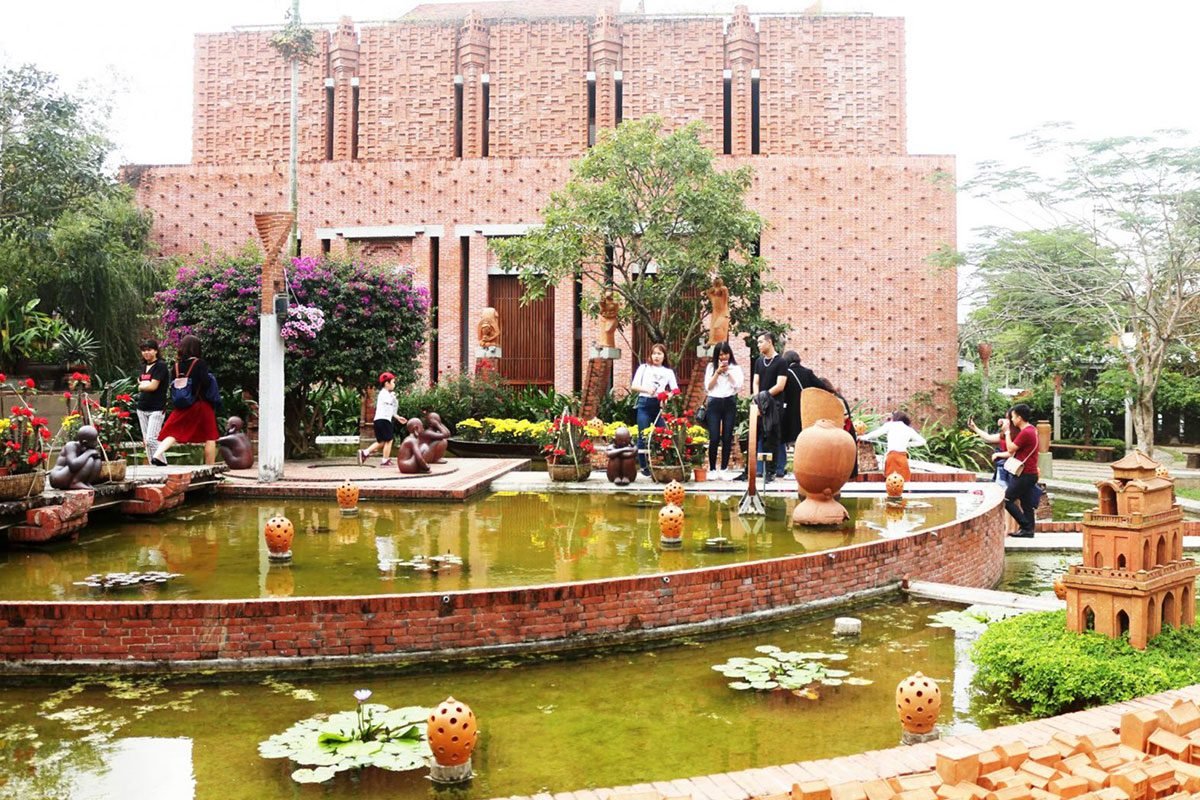 The skilled craftsmen have made clay pottery products by using their traditional techniques. These techniques have been passed down from generation to generation over 6 centuries. When arriving in this village, you will be captivated to see impressive ceramic works that depict famous landscapes in the world. Though going through many ups and downs, the artisans still have great passion and keep the traditional pottery making intact.
What to do:
Visit the Thanh Ha Pottery Museum: It is a new and open air building which offers full activities for everyone in your family. Inside the two-story building, you can find a workshop, a gallery, a gift shop, the terracotta market,… Here, you can choose to enjoy an exhibition to get to know more about Hoi An's pottery history and its poetic ambiance. You also get a chance to listen to old stories and tales about ancestors or sit down to find the soul of this land.
Wander around Terracotta Park. The park looks like other sculpture parks from the outside. But no, when you go inside, you can find a miniature display of famous architectural wonders in the world. Going around and you may recognize a few such as the Lady Liberty, the Leaning Tower of Pisa, and the Taj Mahal,…You even can touch some pieces of art and imagine how they created these artworks 50 years or even 100 years ago.
Tips:
If you go with your children, you can head downstairs to the Pottery Museum where they can try pottery making, mask painting, or other smashing activities. The children are always eager to get their hands dirty and explore every part of the museum.
6. Best Tailors In Hoi An
YALY COUTURE
YALY COUTURE is probably the best-known name if you ask for a good tailor in Hoi An Ancient Town. The shop is characterized by professionalism, an abundance of fabric available in town, and high quality. It's a good place to have elaborate items made: apparel with sequins, ruffles, multiple layers of fabric, beadwork, and embroidery, etc. Despite being the most expensive in town, Yaly has won acclaim as the higher prices go with the higher and guaranteed quality and efficient service.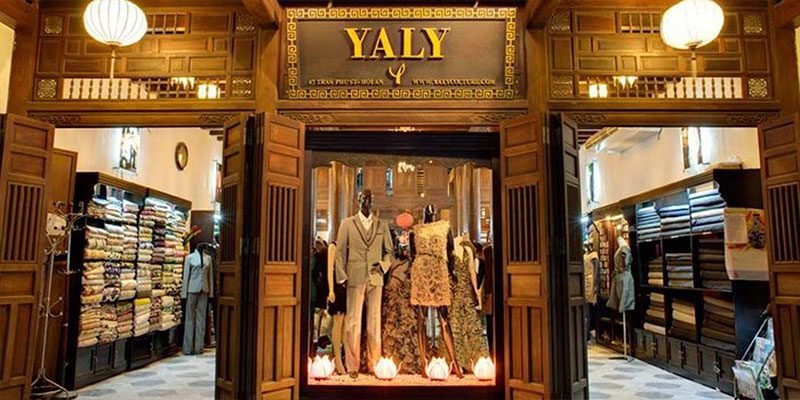 Showroom 1: 47 Nguyen Thai Hoc Street, Hoi An, Viet Nam. Tel: +84 235 2212 474. Email: 47nth@yalycouture.com

Showroom 2: 47 Tran Phu Street, Hoi An, Viet Nam. Tel: +84 235 3861 119. Email: 47tp@yalycouture.com

Showroom 3: 358 Nguyen Duy Hieu Street, Hoi An, Viet Nam. Tel: +84 235 3914 995. Email: 358ndh@yalycouture.com
A DONG SILK
Established in 1997, A Dong Silk is especially favored for its quality and attentive service. The secret of A Dong Silk's success may lie in their care to customer satisfaction since most customers appraised the staff there for being very friendly and patient, as well as their knowledge of how the fabrics work with different garments and their high tailoring skill.
Their wide range of fabric can also please most people. Not a cheap one but still definitely reasonable for such a high quality of clothes and service like that!
Address: 40 Le Loi, Hoi An.

Tel: (+84.510)3 910579/3 861386 

Email: info@adongsilk.com 
Hopefully our above suggestions will make your Hoi An day trips even better. Thank you for reading our article.
(This article is referenced from vietnamdiscovery.com & vietnamonline.com)