A comfortable accommodation will bring a favourable trip. Explore 'The 12 Best Hoi An Hotels' with us to choose an interesting place for your vacation!
Styles are equally wide-ranging. Want to stay in a centuries-old Old Quarter wooden town house? You can. At An Bang beach amid a laid back scene of cyclists winding their way through bright green rice fields to town? Plenty there. In a serene spa-based riverfront resort learning how to make lanterns? Lots of Hoi An best places to stay. Staying with a family who will teach you how to propagate orchids and take you to the market for the weekly shop? All these and more made our list; read on to find the one that's perfect for you.
1. Alsahar Hoi An – THE MIRACLES IN HOI AN
Location: 77/5 Nguyen Duy Hieu, Cam Chau, Hoi An
Tel: 0905 519 971
When talking about a perfect combination of modern and classic, unique Moroccan style and romantic Hoi An Ancient Town, Alsahar Hoi An is one of the few villas that can meet the above criteria. From afar, Alsahar Hoi An impresses visitors by the design of a Moroccan castle. The combination of bright red tiled roofs, emerald green pointed arched doorways on a sandy background creates associations of a distant Mediterranean oasis.
When coming to Alsahar, you are completely immersed in your own world because the house is designed to be separate from the outside environment, extremely quiet and peaceful. In particular, you also treat your body, dispel fatigue with a jacuzzi hydromassage pool and soak in a waterfall pool in the cool, clear green garden of areca trees. The experience is further enhanced by having fun with the flamingos together, sipping some cake and afternoon tea, talking about fun stories and taking a few photos to save memories.
Villa has a total of 7 bedrooms with a maximum capacity of 14-16 people. All rooms have a balcony overlooking the garden and jacuzzi. The special thing is that also from here, you can see the Thu Bon river in the distance. Each room is equipped with a private bathroom, smart TV with Netflix Premium, Free Wifi, an air-conditioner, a ceiling fan and a big wardrobe. In addition, catering services and BBQ party set up are also available. Just contact the reservationist and inform the housekeeper of your plans, the rest is left to the staff to take care of you.
2. Alamnity Hoi An – The 12 Best Hoi An Hotels
Could this be the most relaxed hotel in central Vietnam? Quite possibly. It claims to have the biggest spa, after all. This and 140 elegantly decorated rooms with platform beds, minibars and all mod cons are set in tropical gardens that take in a saltwater pool as well as an organic garden providing produce for the restaurant, which serves Asian and Italian food. A range of complimentary activities includes the obvious (steam room, sauna, gym, bike) to the imaginative (fish-feeding, Vietnamese lessons, art exhibitions and herbal tea meditation) via the unexpected but welcome (daily 60-minute spa treatment and yoga sessions). Faultless.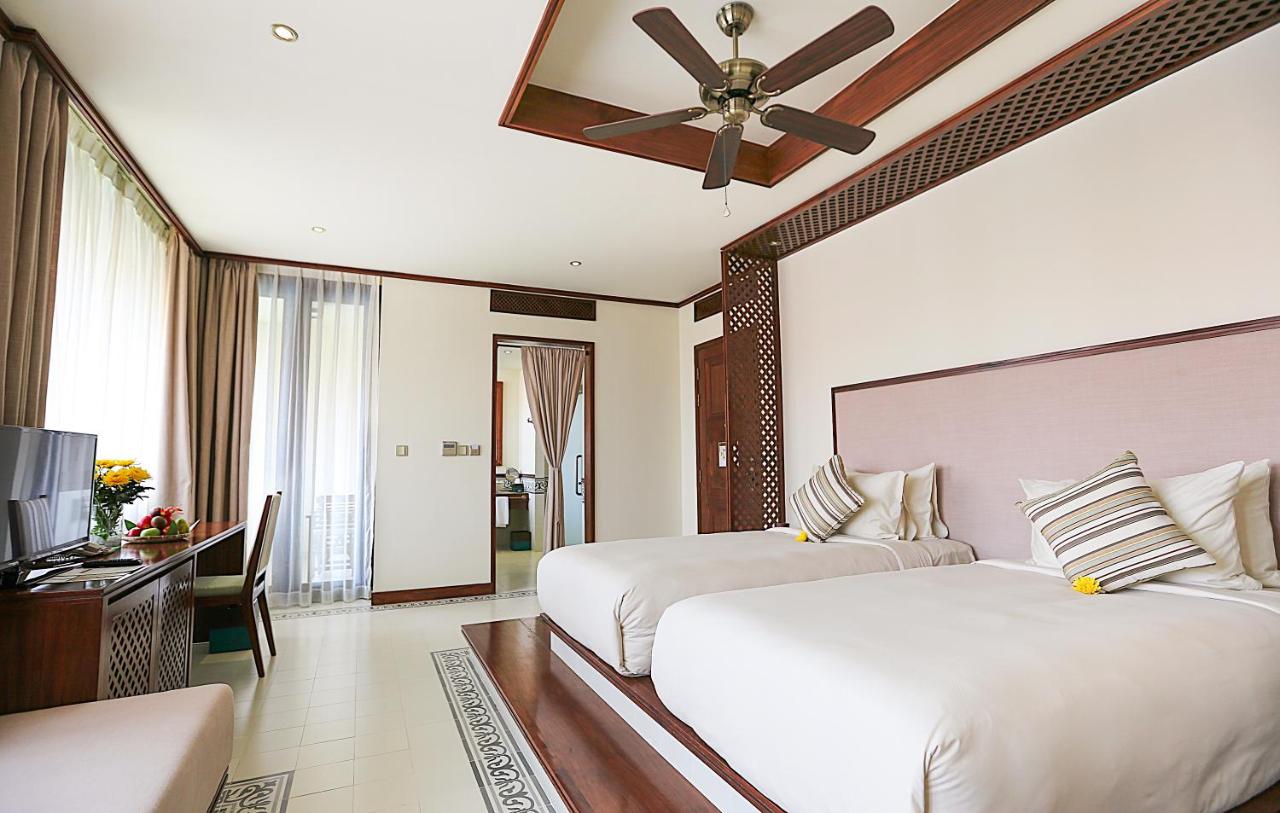 3. Anantara Hoi An Resort – The 12 Best Hoi An Hotels
Right on the Thu Buon river, this low-slung traditional boutique hotel Hoi An and spa is a beauty, and like the Almanity, celebrates local culture with a range of activities – including lantern-making and traditional Chinese painting. Colonial-style rooms, some with sleigh or platform beds, are all dark wood and white linens, and fronted with a seating area and private porch looking onto the garden or river. A gorgeous pool area, spa with steam rooms and hammam, and various outdoor and indoor eateries add to the appeal, as does the good location – it's just a five-minute walk to the Old Quarter.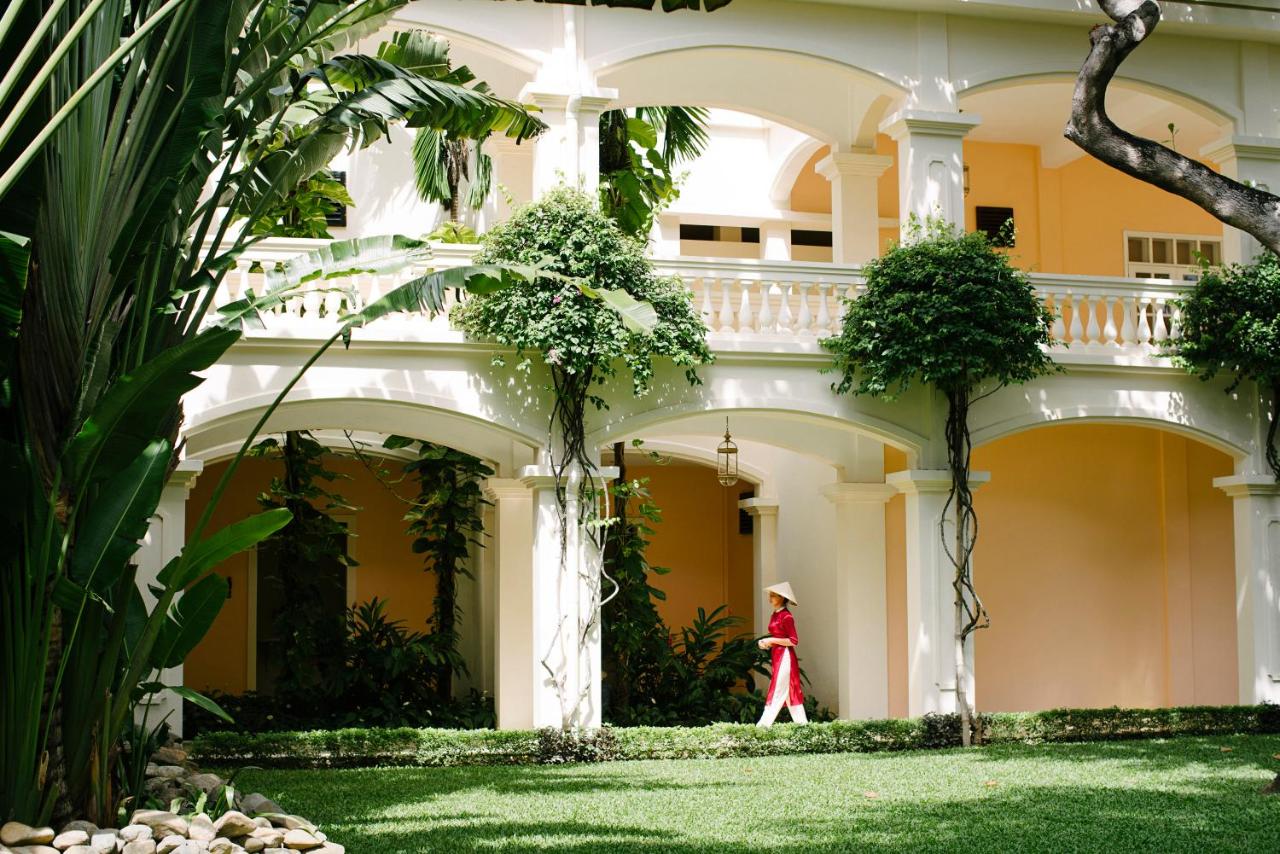 4. Beachside Boutique Resort – The 12 Best Hoi An Hotels
This funky little four-star hotel facing the beach at An Bang has heaps going for it, from beautiful tiling and colourful decor to individually decorated marine-themed rooms centred around a pretty pool area, and a great breakfast served in a boho beach bar opposite. Staff are special too, going way beyond the call of duty to make your stay perfect. It's a good 20-minute cycle ride to town (bikes are free), but after a day spent chilling on the beach, breaking only for lunch at the Salt Bar or one of its neighbouring sea-facing restaurants, you'll likely welcome the exercise.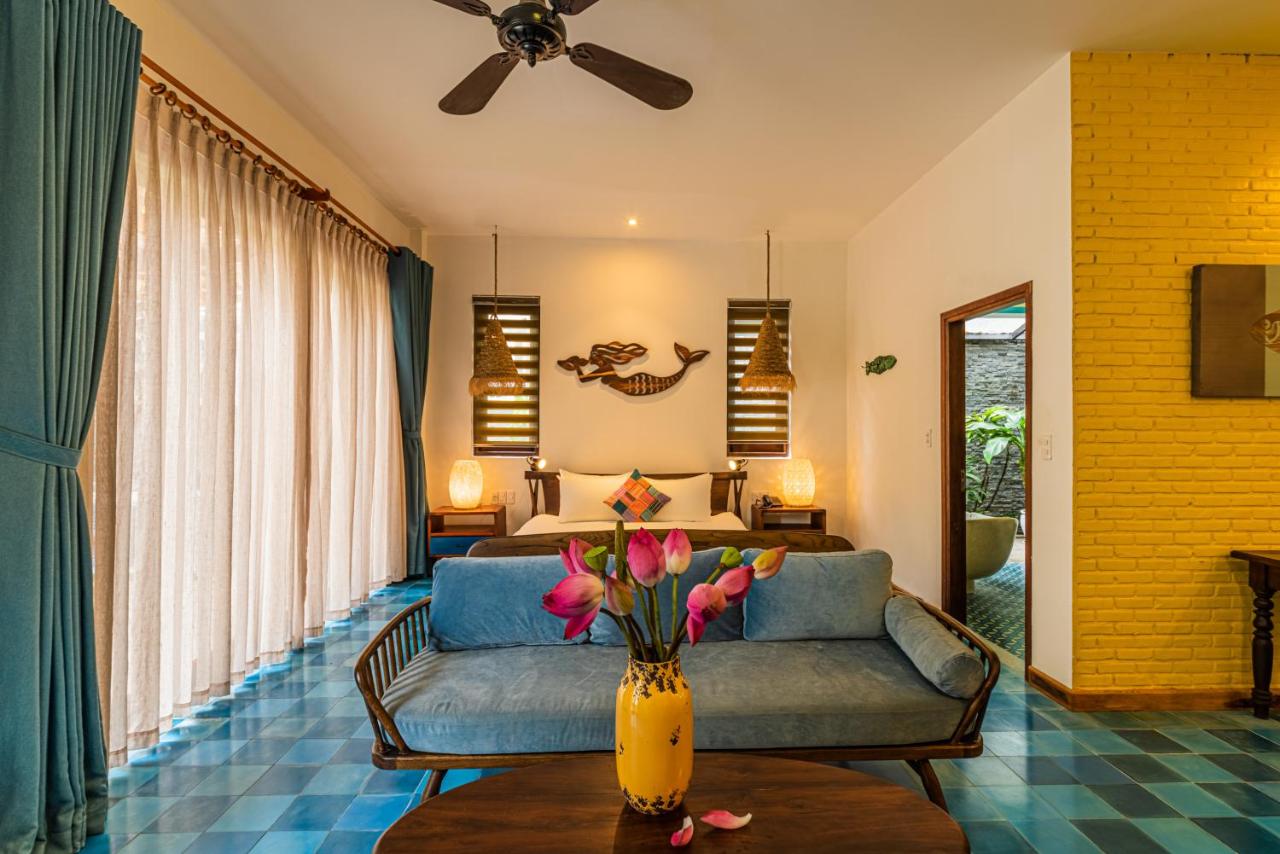 5. Vinh Hung 1 Hotel – The 12 Best Hoi An Hotels
For a taste of the real Hoi An, this 200-year-old wooden merchant's house can't be bettered; exploring its architecture and wandering its rooms, examining in detail its craftsmanship, is a unique treat. All six rooms are sumptuously appointed and filled with antiques and handmade crafts, from furniture to rugs and textiles, but also come with A/C, minibar and luxurious bathroom with bathtub. Guests have the use of the swimming pool at sister hotel, Vinh Hung Riverside Resort & Spa. Graham Greene fans might want to ask for room 208 (featured in the film of The Quiet American).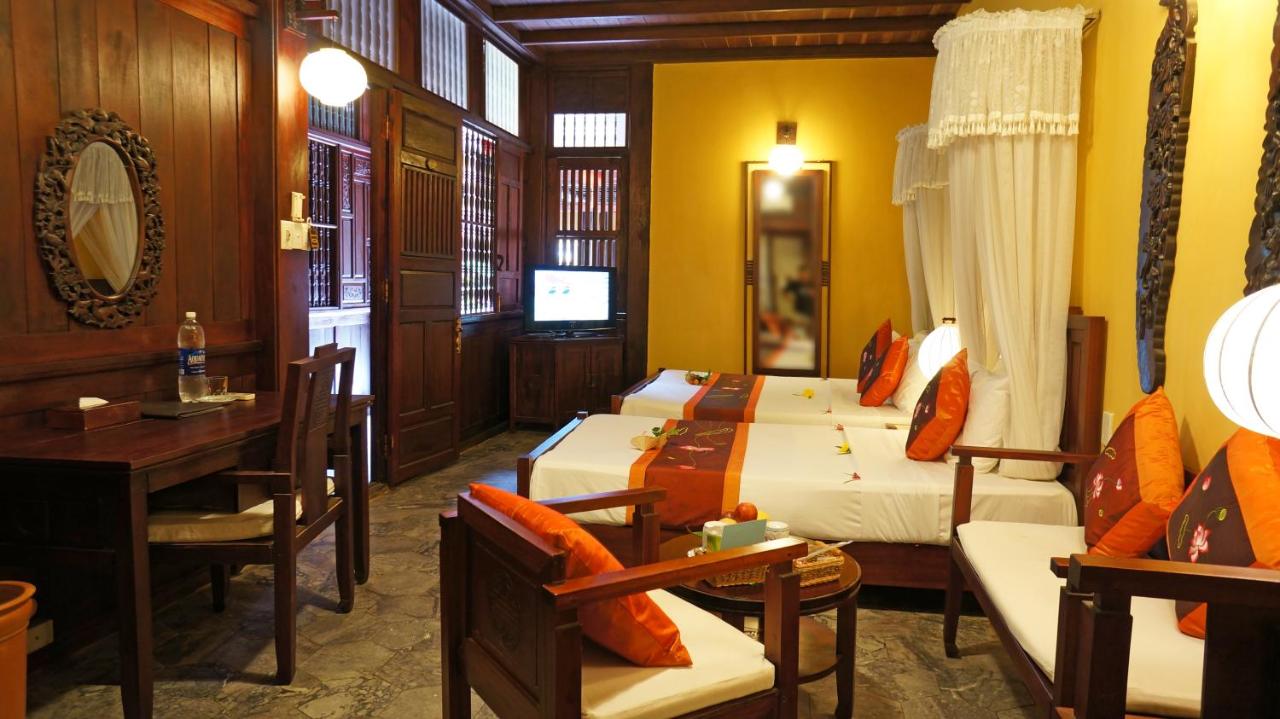 6. Four Seasons Resort the Nam Hai- The 12 Best Hoi An Hotels
It would be churlish not to include the Four Seasons here; after all, its style, services and amenities are legendary. So if what you're after is an all-singing, all-dancing bells and whistles stay in a beautiful contemporary Asian-style villa surrounded by powdery-sand beach, three pools, watersports centre, fine-dining restaurants and elegant bars, this won't disappoint. Unless you're here to experience the real Vietnam; for that, stay in a locally owned place where the service won't be as efficient, but will be just as enthusiastic and warm. And for the price of one night here, you can have five in one of them.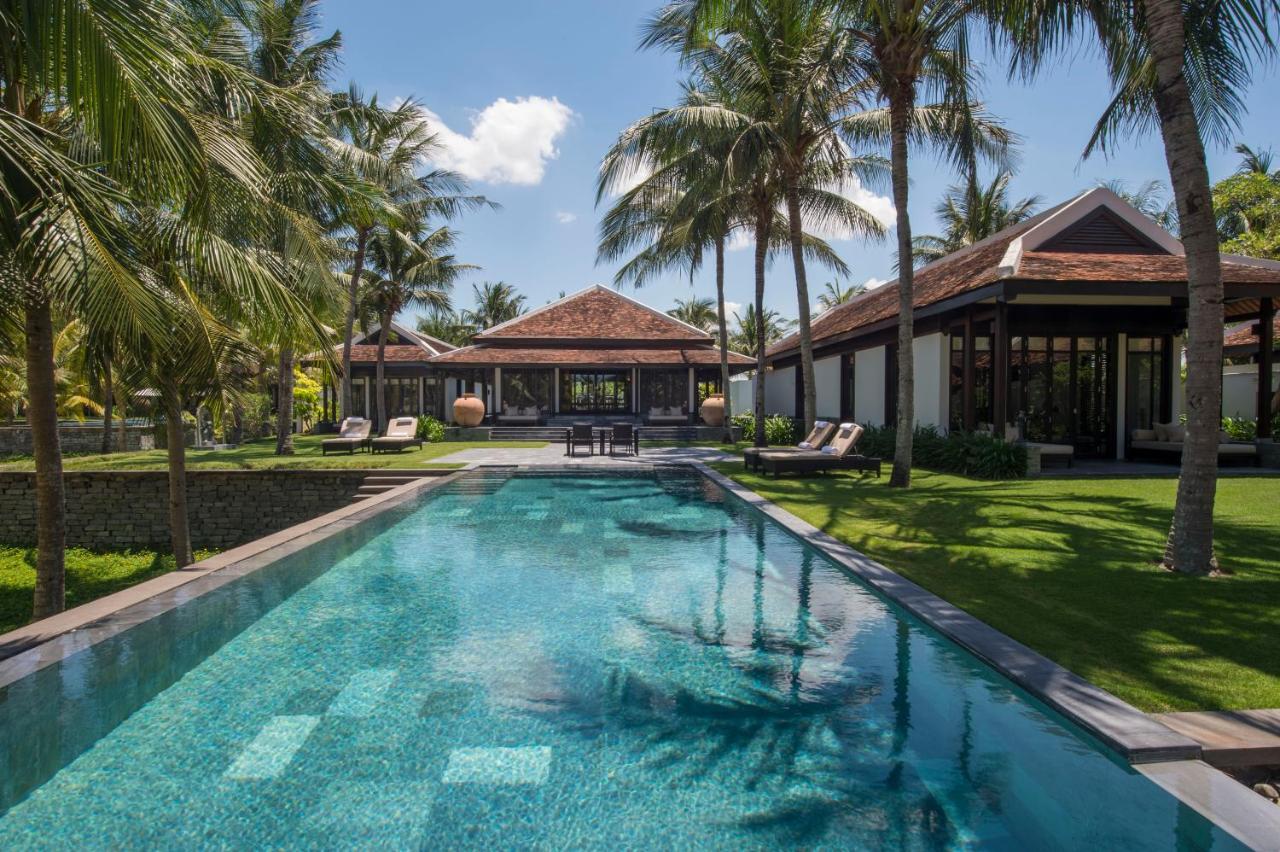 7. Hoi An Chic Hotel – The 12 Best Hoi An Hotels
If the beach is too far from the action and the bustle of Hoi An too much for you, this little spot 2km away from both could be the perfect half-way house. Set amid vibrant rice fields, the homely building contains rooms that mix traditional with contemporary in delightful ways, pepping up dark woods with bright textiles and cushions. All include a balcony and free daily minibar consumption. Bikes are free too (as are the locally made sun hats and shopping bags), but if negotiating Hoi An's crazy traffic is too daunting, the free shuttle service in a US jeep should do the trick.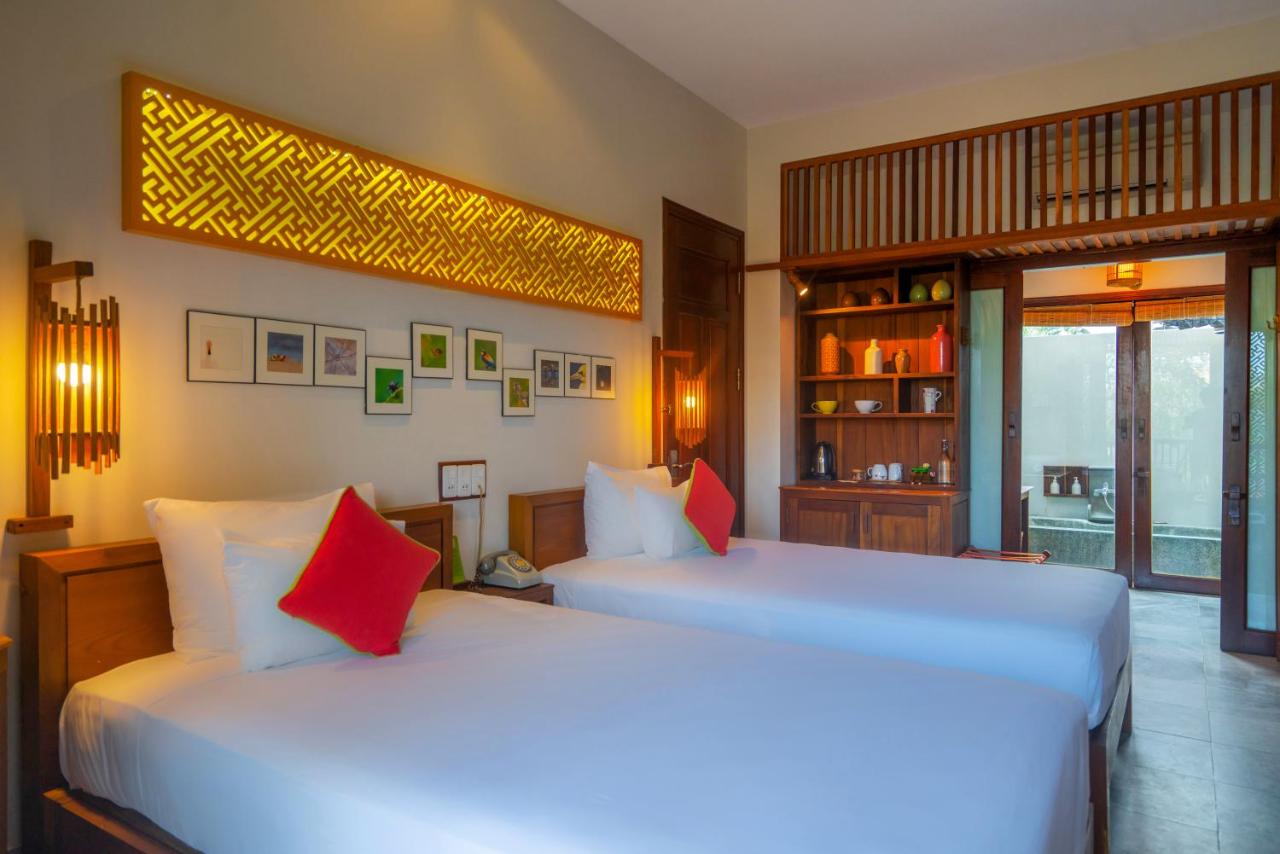 8. Little Hoi An – The 12 Best Hoi An Hotels
Just across the river from Hoi An, this boutique river-facing hotel has a great location – within steps of the Old Quarter, but in the much quieter and hipper area of An Hoi. It's a small and very polished affair, its 30 rooms and suites singing with traditional crafts; from the tiles on the floor to the fretworked dark wood, art and bright textiles, the spaces, all with river or town views and balconies, celebrate the crafts of Hoi An but come with all mod cons, including free iPad use and video rental. There's a small spa and covered pool too.
9. Hoi An Odyssey Hotel – The 12 Best Hoi An Hotels
Just walking into the bright lobby of this hotel, filled with colourful lanterns and tropical flowers, is a delight – as is the location, at the confluence of the Thu Bon river on laidback Cam Nam island. The year-round outdoor pool and sun terrace are peaceful spots to plan your day and rooms are nicely furnished; all come with A/C and a minibar, while some have pool or river views. The free bikes are great for getting to and around town, and for a day at the seaside, a shuttle bus connects the hotel with its private beach.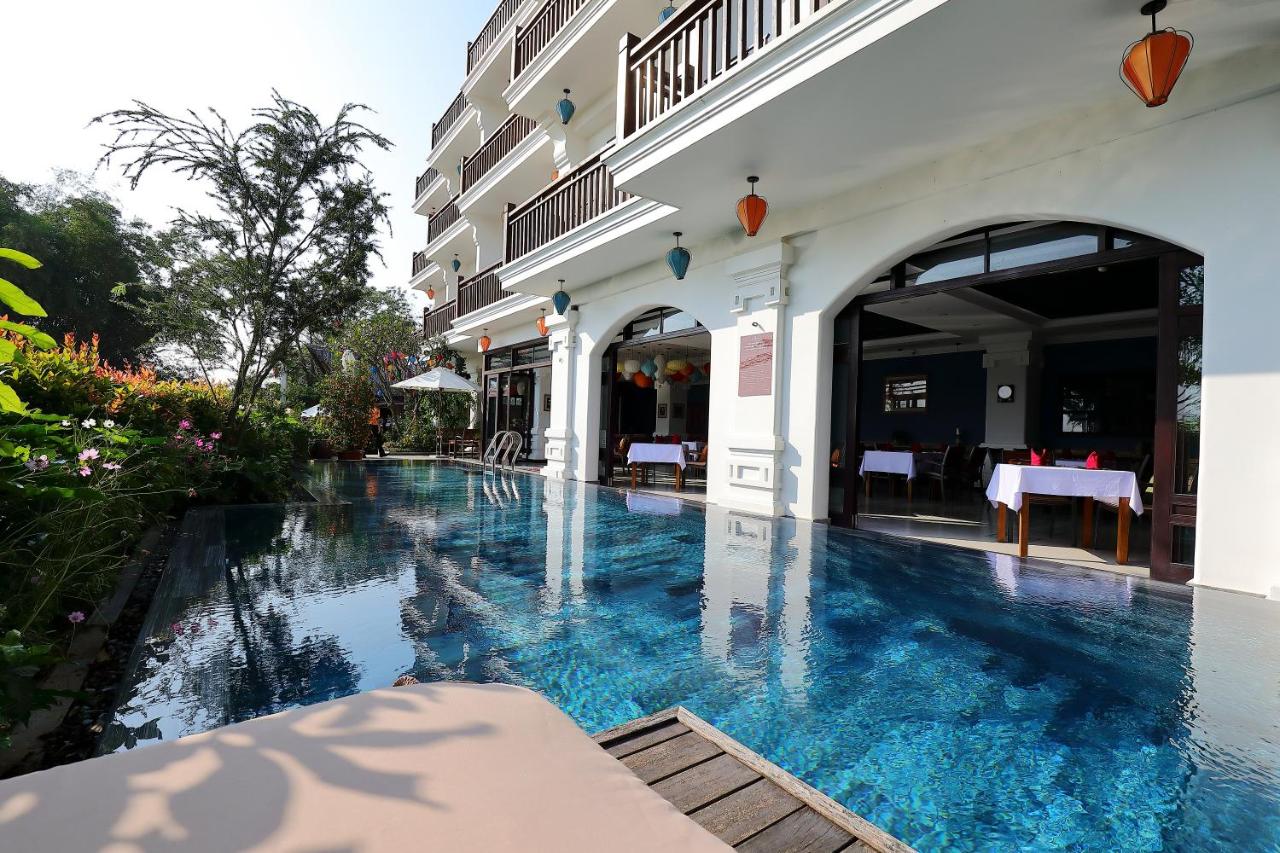 10. Life Beach Villa – The 12 Best Hoi An Hotels
With its gaily-painted blue woodwork, poured concrete or brightly tiled floors and a funky contemporary meets handmade aesthetic, this little beach hotel is a seaside treat. All ten rooms are individually decorated so you might find yours has exposed bricks, wicker lampshade, mezzanine sleeping platform or bamboo ladder, but whatever you find it will be as charming and personal as the service. The nice little pool area with loungers is great for chilling out after a day in town – for longer kick-back sessions, lovely An Bang beach is just two minutes' walk.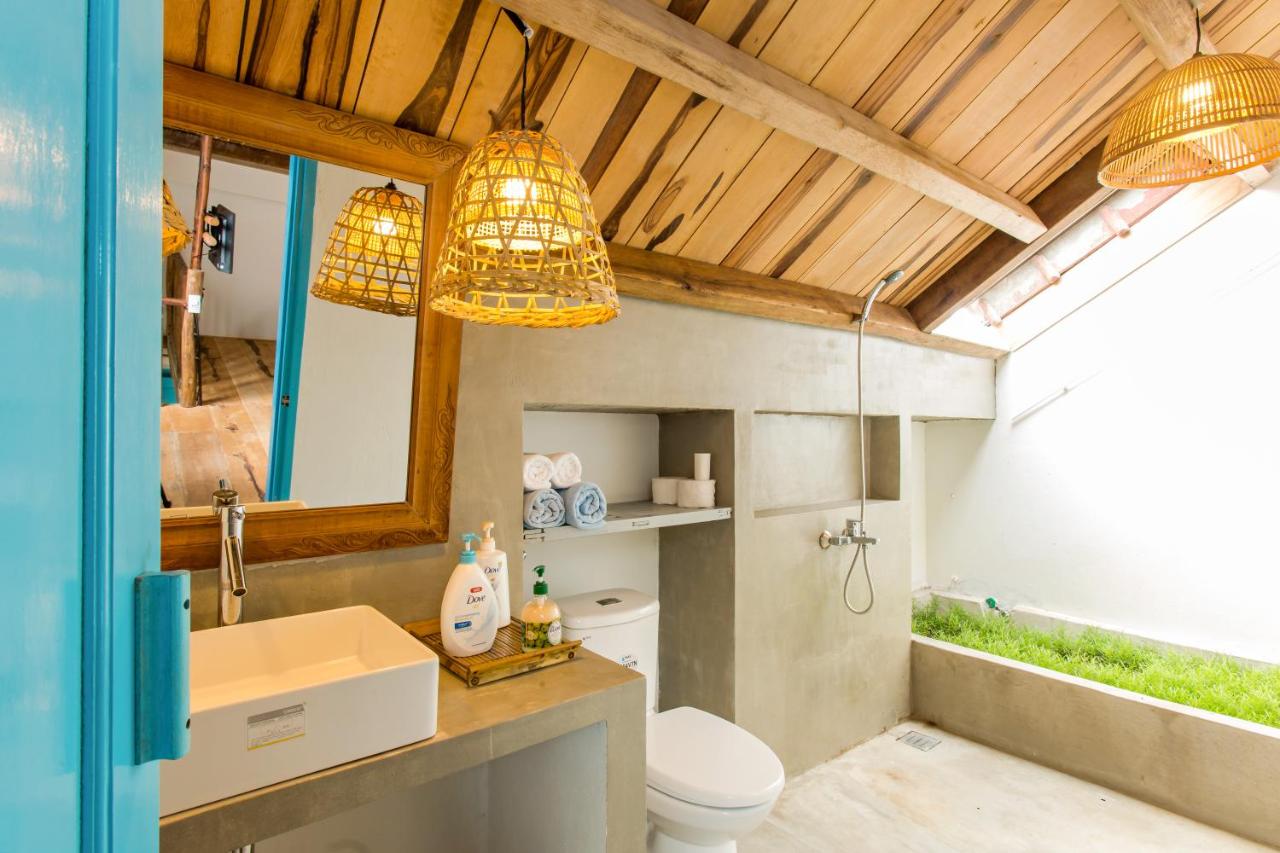 11. Santa Villa Hoi An – The 12 Best Hoi An Hotels
Just south of the lively heart of An Bang at Tan Thanh beach, this  modern four-storey corner building with balconies or terrace is much loved by its visitors, not least for the warmth and helpfulness of the staff. The free breakfast and bikes are winners too, as is the swimming pool and sense of tranquillity once the day ends. Rooms are bright and modern (some come with kitchenettes), and as is common in the beach area, marine-themed; we like the Captain's room, which comes with sea view, but would happily settle for the fisherman's room at just US$59 a night.
12. Hoi An Orchid Garden Hotel – The 12 Best Hoi An Hotels
If you want to experience a traditional Vietnamese homestay with a difference, this won't disappoint – particularly if you're a fan of orchids. Set amid tropical gardens with a swimming pool and tranquil countryside setting just outside the old town, the well-appointed bungalows with kitchens are great for families and anyone keen to learn about Vietnamese culture; join the owners on a trip to the market, help prepare meals and learn about Vietnamese cooking, or learn how to propagate and care for orchids –  the orchid garden here boasts 100 species and 20 hybrids. Bikes and breakfast are included.
(This article is referenced from timeout.com)