In recent years, many tourists often choose the trip from Da Nang to Hoi An for their vacation. Today we will introduce to you detailed instructions on transport here and places to see in Hoi An and this trip.
Lantern-lit Hoi An Ancient Town and the popular beach-side city of Da Nang (Danang) are two of the most interesting places to see in Hoi An and South Vietnam. They aren't very far apart – but there are lots of different ways to travel between the two cities depending on your comfort preference and budget.
The transport guide outlines 4 ways to go from Danang to Hoi An (and Hoi An to Danang), ranging from a public bus that will cost you little more than pocket change, to a private transfer that will make the experience completely seamless.
Da Nang to Hoi An distance
The distance between Da Nang and Hoi An is 29 kilometres or 18 miles.
Da Nang to Hoi An travel time
There are two ways to travel from Danang to Hoi An: Via the coastal route, or inland on the DT607 highway. Travel time depends on the route your driver takes and the type of vehicle (cars and taxis are faster than minivans and coaches).
It takes a minimum of 45 minutes to get from Da Nang to Hoi An when travelling on the coastal road by car.
On the inland road, it takes a little longer – approximately 50 to 60 minutes by car.
Da Nang to Hoi An transport guide
This comprehensive guide for getting from Da Nang to Hoi An is researched and up to date for 2021. In this section, I'll provide a broad overview of the options before going into the detail on all 4 transport methods.
One of the most important things to consider when choosing your transportation is how you'll be arriving in Danang. As you'll see, Hoi An transfers depart from both the airport and Da Nang City. If you're flying in, you'll want a service straight from Da Nang International Airport so that you don't have to fight through traffic to get into the city first.
If you're arriving in Danang by train or bus, note that the railway station and bus depot are both located in Danang City. The railway station is conveniently located close to the centre of town, but the main bus station is behind the airport, roughly 5km from the centre.
Similarly, if you're planning to spend a night or two in Danang before you continue on to Hoi An, you'll want a transport service that departs from the city or offers hotel pick up.
If you need to travel within Da Nang – for example, to get from the train station to the bus depot – I highly recommend using Grab App (Southeast Asia's answer to Uber) to book a taxi or motorbike taxi.
OPTION 1: GUIDED TOUR FROM DA NANG TO HOI AN
Perfect if you want to take a day trip from Danang to Hoi An

Great flexibility, and the added benefit of a private guide
If you plan on staying in Da Nang and you want to visit Hoi An as a day trip, an accompanied tour with an English-speaking guide and private transportation is by far the most convenient way to travel.
One day in Hoi An is enough to see some of the major highlights and soak up the atmosphere of the UNESCO-Listed Ancient Town.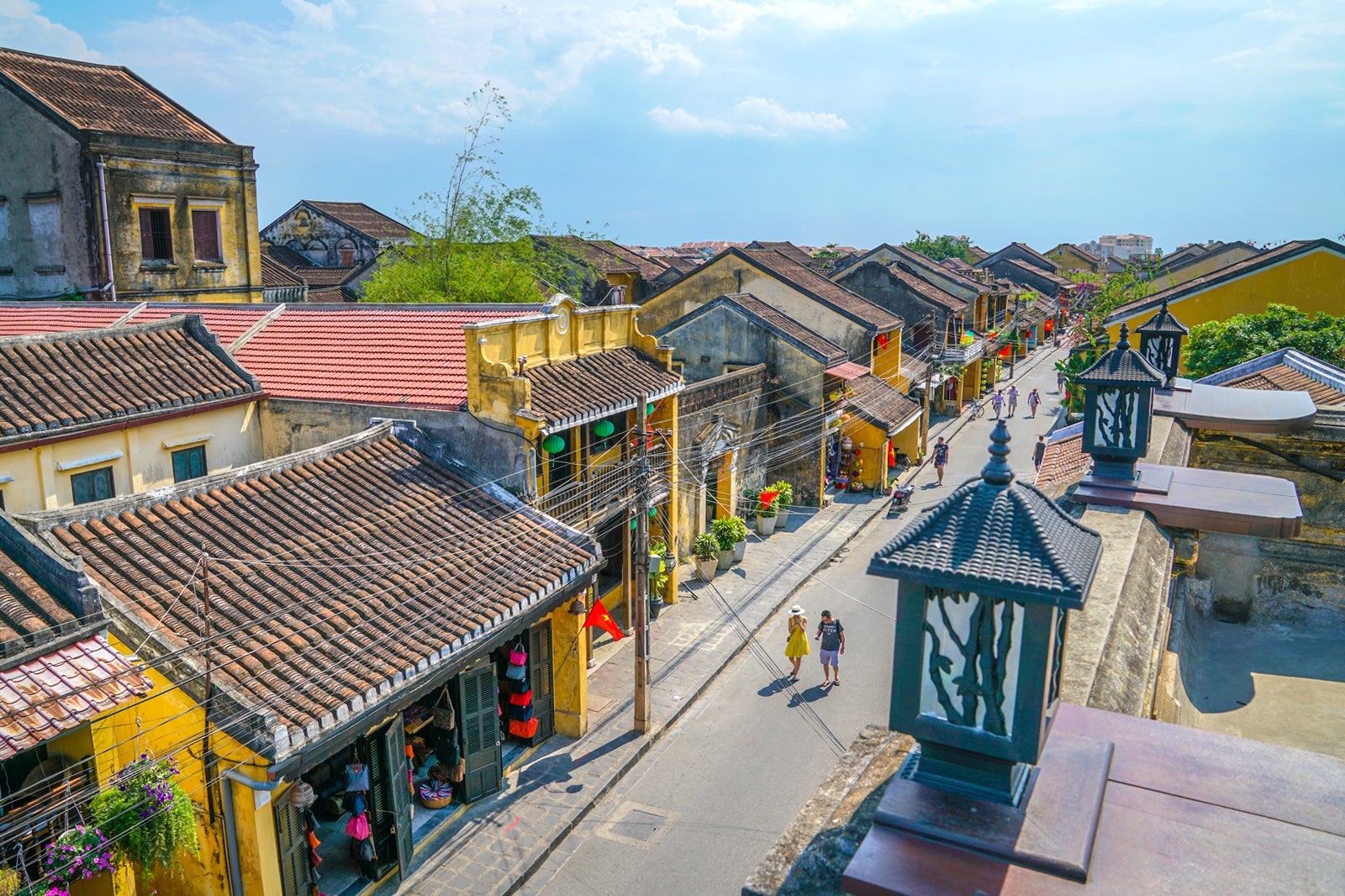 This all-inclusive tour lasts for 7 hours and includes pick-up and drop-off at your hotel in Danang. With your private guide, you'll experience a traditional Vietnamese lunch, a walk around the Ancient Town, and visit some of Hoi An's key landmarks, including the Covered Bridge and the local market.
On the way to Hoi An, you'll stop off to summit one of the Marble Mountains for a panoramic view of Danang. The price of the tour includes lunch, all entrance fees, and door-to-door transfers in a private air conditioned car. Check availability and make a secure online booking here via Get Your Guide, my preferred tour service in Vietnam.
If your intention is to stay overnight in Hoi An, it may be possible to bring your luggage with you on the day and get dropped off in Hoi An at the end of the tour. I've done this once or twice in the past. Just enquire with the tour operator first to double check.
Where to stay in Hoi An?
Alsahar Hoi An – THE MIRACLES IN HOI AN
Location: 77/5 Nguyen Duy Hieu, Cam Chau, Hoi An
Tel: 0905 519 971
Alsahar Hoi An is one of the few villas near the sea and near Hoi An Ancient Town. From the location of the villa, you only need to move about 2 km to reach the center of the old town and about 2.5km to reach Cua Dai beach.
Alsahar is designed like a sandy Moroccan castle. If you are a lover of art and beauty, this will be a great resort villa for your Hoi An trips. From the moment you arrive here, you will be impressed by the tall gate of Alsahar and the beautiful, pink bougainvillea at the gate. Inside the villa's premises is a lush green garden. You will also easily see a lot of green colors during your stay here because the villa chooses an environmentally friendly concept so that each visitor feels comfortable and relaxed in their soul.
Villa has a total of 7 bedrooms with a maximum capacity of 14-16 people. All rooms have a balcony overlooking the garden and jacuzzi. The special thing is that also from here, you can see the Thu Bon river in the distance. Each room is equipped with a private bathroom, smart TV with Netflix Premium, Free Wifi, an air-conditioner, a ceiling fan and a big wardrobe. In addition, catering services and BBQ party set up are also available. Just contact the reservationist and inform the housekeeper of your plans, the rest is left to the staff to take care of you.
In addition to the above facilities, you can also use free bicycles at Alsahar to explore Hoi An Ancient Town. The highlight of the service at the villa that any visitor will love is the jacuzzi hydromassage pool right in the green garden of the campus. Order an extra afternoon tea floating tray for a more relaxing experience!
OPTION 2: PRIVATE TRANSFER FROM DA NANG AIRPORT TO HOI AN BY CAR
Perfect for families, groups, and anyone with a lot of luggage

The best option for accessible travellers & travellers with young kids

24/7 service on demand

From $25 per car
If you're looking for a one-way transfer from Danang to Hoi An and you don't want to mess around with buses and taxis or share the ride with other passengers, hiring a private car and driver is the most efficient and comfortable option.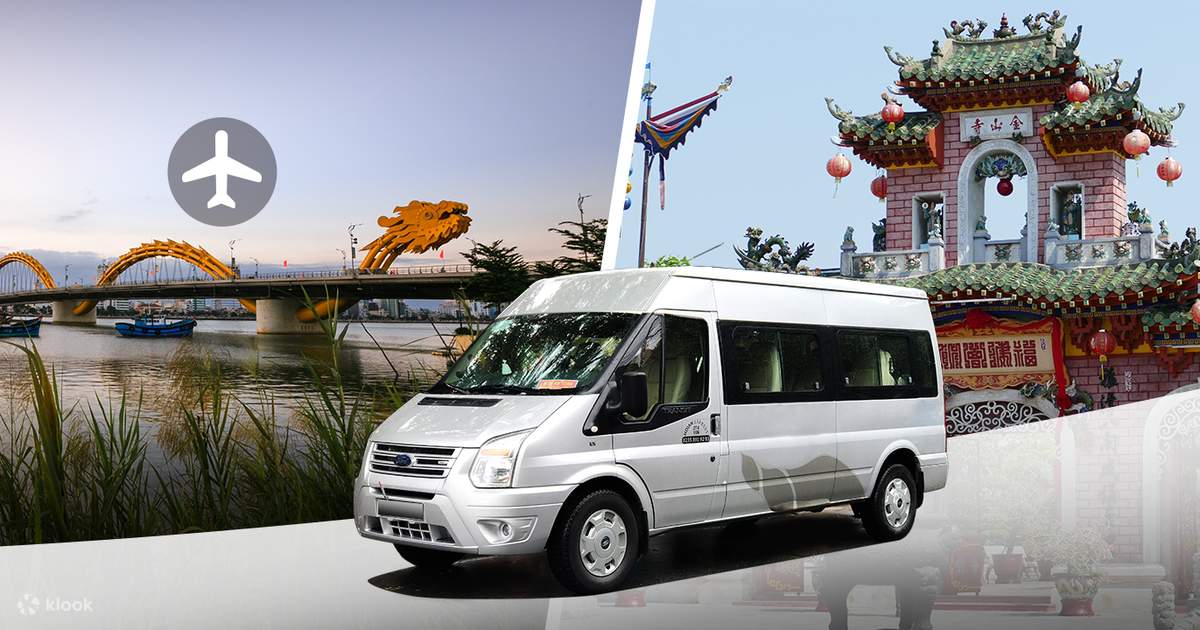 An airport transfer from Danang to Hoi An is ideal if you're arriving in Da Nang by plane and and you don't want to waste any time in getting to the Ancient Town. I also recommend this option for families and groups, as the price works out better.
A private car from Da Nang Airport to Hoi An Ancient Town takes 45-60 minutes depending on traffic and the location of your hotel.
How to book a private Da Nang to Hoi An transfer online
There are a couple of options for booking a private transfer from Da Nang Airport. Your accommodation in Hoi An can usually organise a car for you – but I often find the price can be a bit high.
Instead, I recommend booking a car and driver through Get Your Guide. With this platform, you can book instantly and pay securely online. If you've left things to the last minute, you can usually book a same-day transfer (depending on availability). You also have the flexibility to cancel up to 24 hours in advance if plans change.
This hassle-free private transfer is excellent value for money at just $25 per car (up to 3 people) or $30 (up to 5 people). Vehicles are modern, air-conditioned and importantly, wheelchair accessible. Kids car seats are available on request. Drivers are professional and speak English.
When you book, you supply the company with your flight details so that your driver can meet you in the airport arrivals hall with a placard. It's a 24/7 service, so if your flight gets in late, you'll have someone there to meet you. They'll then drive you all the way to your hotel in Hoi An. You can stop anywhere you want along the way.
For a totally unique experience, this airport transfer to Hoi An in a restored army era open-top Jeep is an unforgettable way to travel! Many of the drivers are vets.
Note that this service only operates during the day (starting from 8.30am) and cars can only hold 2 adults (perfect for couples – but families can always split up into pairs).
OPTION 3: HOI AN EXPRESS SHUTTLE FROM DA NANG AIRPORT TO HOI AN
Perfect for mid-range travellers and solo travellers

Less flexible; takes slightly longer

Runs every hour on the hour between 5am and 11pm daily

From $8.40 per person
Hoi An Express is a popular transfer company that runs regular minivan shuttles between Danang International Airport and Hoi An Ancient Town. The journey takes slightly longer, but because you're sharing with other passengers, the price is lower – making this a great option for couples and solo travellers.
Shuttles leave the airport every hour. If your flight arrives at quarter-past, for example, you'll have to wait 45 minutes. Supply your flight details at the time of booking and Hoi An Express will recommend the most appropriate time slot (taking immigration and visa processing into account if you're flying in from overseas).
When you land, a representative will meet you with a name placard. Vans are modern and air-conditioned with free WIFI on board. When you get to Hoi An, they will drop you off at your hotel. Note that an extra charge may apply if your accommodation is outside the city centre.
How to buy tickets for the Da Nang to Hoi An shuttle bus
Tickets for the Hoi An Express shuttle can be purchased in advance through Get Your Guide. Hit 'Check availability' then select your route ('From Da Nang Airport to Hoi An: Transfers by Shuttle') from the drop down menu.
If you're flying out of Danang, you can buy your tickets for the return trip at the same time (although no discount is applied).
You'll notice that Hoi An Express also offers private minivan, van and sedan transfers starting from $28 per car.
Check availability and book instantly through Get Your Guide.
OPTION 4: PRIVATE OR SHARED TAXI FROM DANANG TO HOI AN
Perfect for mid-range and budget-savvy travellers

Ideal if you're already in Da Nang City

24/7 service on demand

From $18 per car (private) or $4.90 (shared)
If you're looking for a way to travel between Da Nang and Hoi An that's comfortable, efficient and has a slightly lower price tag, a taxi is a good compromise between private transfer and taking the bus.
If you're already in Da Nang, you can use this door-to-door taxi service to travel from anywhere in the city to your hotel in Hoi An. Similarly, you can organise to be picked up at the airport, the bus station or Danang Railway Station. In other words, it's more flexible than the shuttle.
There are two options here: Pre-book a private taxi (pay for the whole vehicle), or buy a single seat in a shared taxi.
How much is a taxi from Danang to Hoi An?
There are lots of different factors that determine the price of a taxi from Danang to Hoi An, including time of day, how much luggage you have, and what kind of a mood the driver is in! If you're hailing a taxi off the street or at Danang Airport/station (which I don't recommend!), it's very easy to get talked into paying more than you should.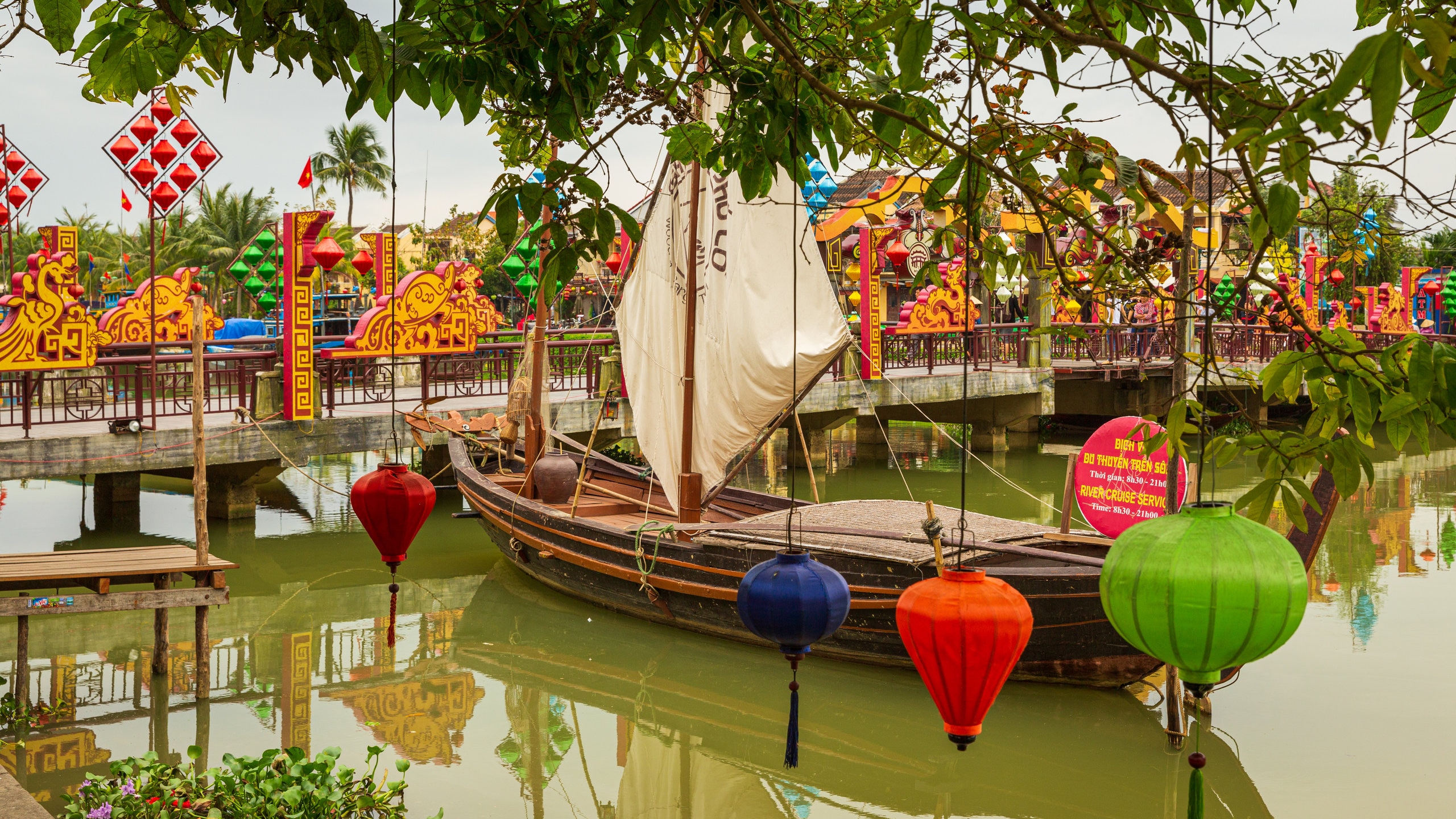 Generally speaking, a taxi from Danang to Hoi An should cost somewhere in the neighbourhood of 300,000 to 400,000 VND ($13-$17).
HOW MANY DAYS DO YOU NEED IN HOI AN?
Another factor that will determine which transportation you use is how long you intend to stay in Hoi An. Will you visit as a day trip and return to Da Nang in the evening? Or will you stay in Hoi An for a couple of nights?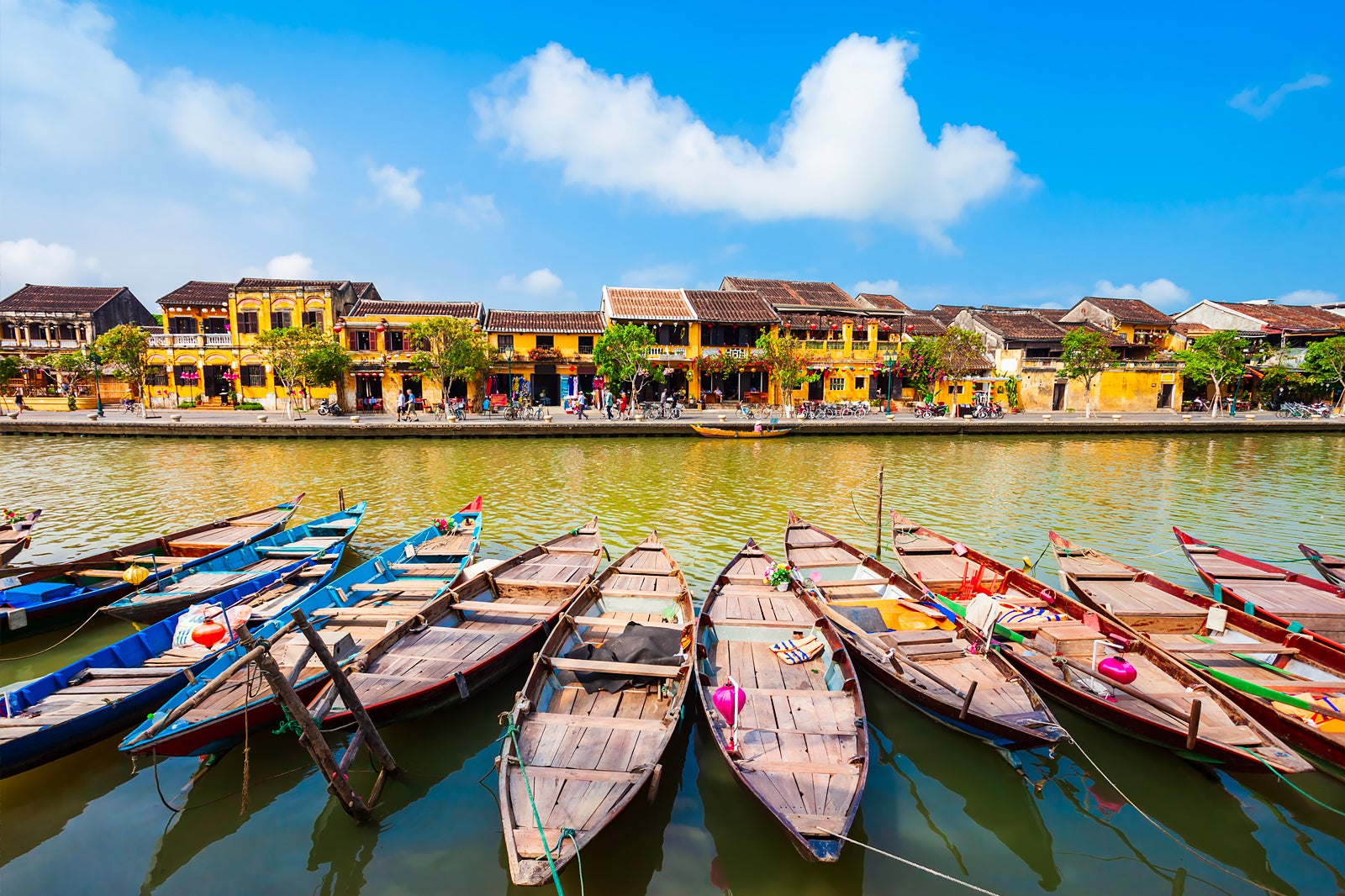 Personally, I recommend staying in Hoi An for 1-2 nights. The Old City gets crowded (and extremely hot) in the middle of the day – thus if you stay overnight, you can get up early to explore in the quieter, cooler hours. There are plenty of places to see in Hoi An to keep you occupied for 2 or more full days, including some fantastic cooking classes.
If you're on a tight schedule or you just prefer to stay at the beach and do your sightseeing during the day, you can easily do a Da Nang to Hoi An day trip. If this is your preference, you're better off organising a private car or taxi rather than using the bus. It will be a bit more expensive, but the trip will be quicker, maximising your time in Hoi An.
Another option is to join a guided tour from Da Nang to Hoi An. This is a very convenient way to travel between the two cities while incorporating some sightseeing along the way.
PLACES TO SEE IN HOI AN
1. An Bang Beach
An Bang, Hoi An's whitest and softest beach, is just minutes from the town center. It offers amazing open views over the ocean, with the Cham islands dotting the turquoise waters in the distance.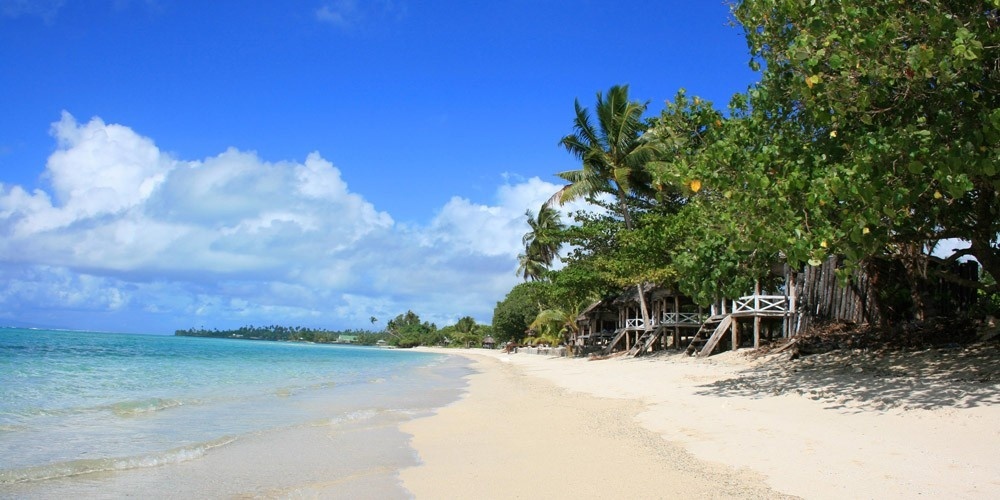 Although the shoreline offers plenty in the way of resorts, restaurants, and entertainment, the beach itself remains quiet and unspoiled. In fact, some of the best seafood in the area comes from small shacks set on the sand, many of which will also rent out sun beds if you don't feel like sitting at one of their tables.
An Bang has excellent conditions for surfing between September and March, and you'll find a larger foreigner presence during these months because of it. Otherwise, visitors can also try paddleboarding and parasailing or simply take a swim in the clear waters.
The locals don't arrive until the sun starts to set, and beach sellers offering souvenirs are rare, so this is the perfect beach for sun worshippers looking to relax and just enjoy the sound of the crashing waves.
2. Phung Hung House
Perhaps the most famous building in Hoi An, the Phung Hung House dates back over 200 years. Originally a merchant house for a family selling spices, silk, and chinaware, the house features colorful hanging lanterns, dark red and brown colors, a Japanese-style roof, and bright wall hangings and Chinese inscriptions.
The house itself is somewhat of an architectural marvel–the 80 columns that keep the structure up are set on a special lotus-shaped base that protects the columns from moisture and termites. The back of the house (which has a balcony right over the canal, where goods could be grabbed right as they arrived by boat) can be completely closed off in case of a flood, protecting the rest of the house against the damaging waters.
Although the shop that once occupied the first floor of the house is no longer here, you can still find little details from it here and there–from the handicrafts on tables and windows to the altar that honors the owner's ancestors to the Yin/Yang tiles harmonizing the house.
3. Hoi An Ancient Town
The entire old center of Hoi An is now a designated UNESCO World Heritage Site, a melting pot of cultures, architecture, and monuments in one of the busiest ancient trading ports in Southeast Asia.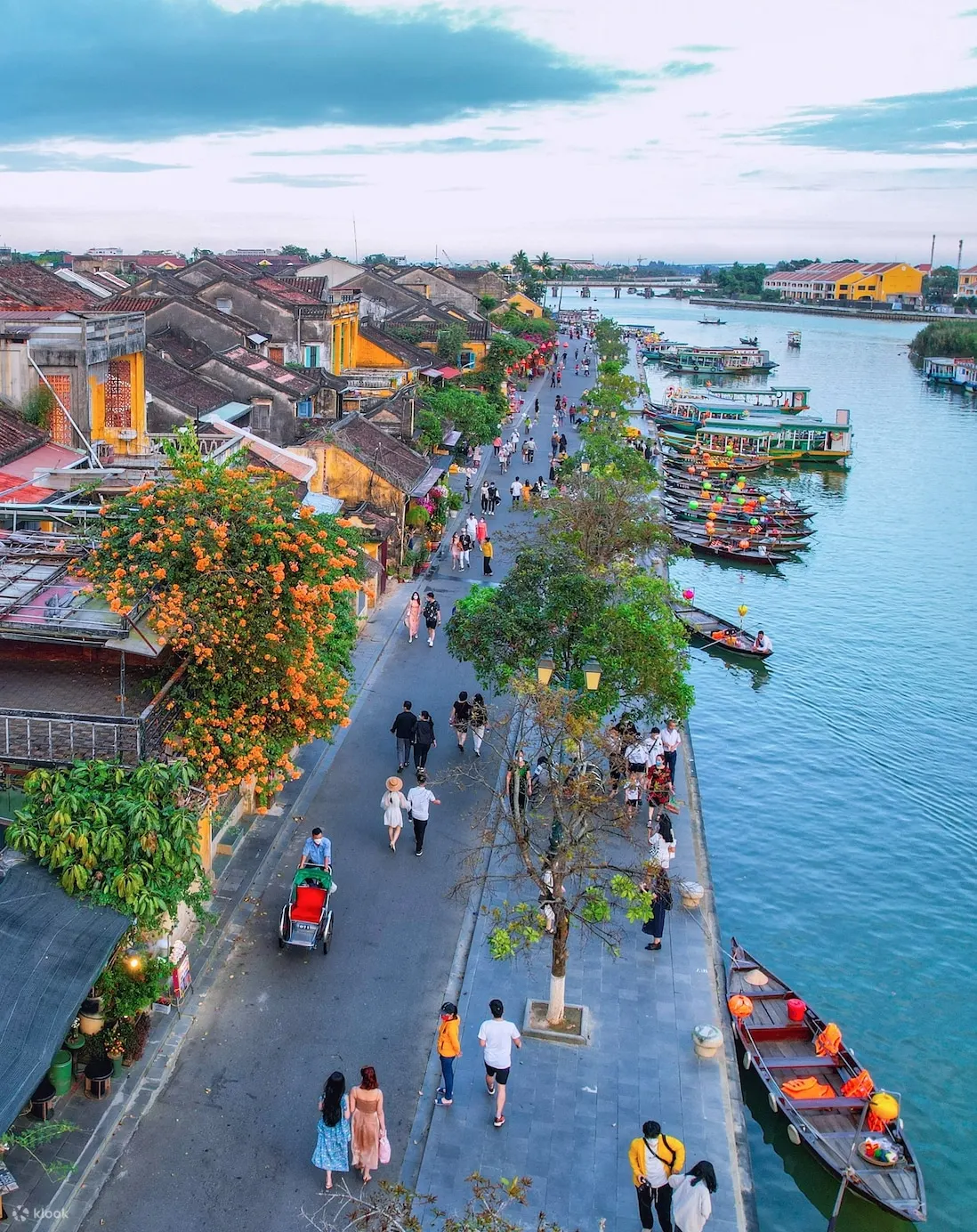 Over 30 hectares and 1,107 timber frame buildings make up the well-preserved historical center, with a mix of religious buildings, monuments, and family homes. Rows of beautiful wooden and brick 15th-century to 18th-century houses line up the pedestrian streets here. The covered Japanese bridge is also part of it.
Walking through the old streets of Hoi An is like traveling back in time. Chinese and Japanese influences are obvious here, with gilded red Chinese characters on rooftops and pagoda-like buildings lining up the canal.
There are plenty of places to eat and shop in the Ancient Town, as well as plenty of spots to watch the sunset falling over the old buildings.
4. Street Markets
Hoi An markets (just like most Vietnamese markets) are noisy, crowded, and a little bit chaotic–but that's all part of their charm. Whether you just want to see how the locals shop, pick up some souvenirs, or try some of the best local food, a visit to one of the city markets should be on your must-do list.
Hoi An's Central Market near the river is the largest and busiest market, as locals shop here as much as tourists. Aside from produce, fresh fish, and ready-made food, this market also sells clothes, souvenirs, and handicrafts.
Tiger market is a smaller version of an everything market, including some extras like homewares and second-hand products–a sort of flea market great for discovering little gems.
For the best souvenirs, nothing beats the Night Market, with many stalls selling Hoi An's signature silk and paper lamps, as well as some of the best street food you'll taste in Vietnam. Or else, You can go for a walk in Hoi An at night and feel the peaceful and very traditional rhythm of life.
>> See more: 8 BEST THING TO DO IN HOI AN ON TET HOLIDAY

We have just introduced you to the article 'FROM DA NANG TO HOI AN – PLACES TO SEE IN HOI AN'. Hope this article is useful for you.
(This article is referenced from wander-lush.org)