In Asian culture, Tet is a special occasion and everyone in these countries celebrates it in their own unique ways. If you come to Vietnam Hoi An during Tet, check out '8 BEST THING TO DO IN HOI AN ON TET HOLIDAY', you will not be disappointed.
What is the Tet Holiday? 
Tet Holiday is concerned to be the biggest, happiest and festival in Vietnam. As the longest public holiday in Vietnam, Tet is a wonderful time for people living far from here to look forward and gather together because they often have one week off to celebrate the festival. For Vietnamese people, Tet is the days of love, hope, and luck. Whenever I think about Vietnam, "TET" is a familiar word to Vietnamese people because everyone knows that their relatives are waiting for their return. The Tet's atmosphere is only warm and cozy when all members of their family stay and talk together! Tet Holiday 2020 is on January 25th, 2020 (New Year's Eve is the previous day).
What should the foreign do during Tet Holiday in Hoi An?  
1. Celebrate Tet on the town streets
You should come here and enjoy the festival atmosphere. It's a great time to explore Vietnamese culture and join traditional activities. Visiting Hoi An this time, you will see a bustling city, becoming increasingly more vivid. The streets were decorated with plenty of paper lanterns, trees, and flowers such as apricot or peach blossom, daisy flowers, kumquat trees,…  Locals also proudly hang their flags outside of their houses on these special days. Moreover, they clean their houses, festoon streets and cook various delicious food with the hope that they will achieve wealth, happiness and prosperity in the following New Year. 
2. Don't miss The New Year's Eve 
Celebrating Tet with local people has always been an unforgettable experience for tourists, especially on New Year's Eve. The old town will close to motorized traffic and switch off its light. At that time, Hoi An was an absolutely stunning town especially with multi-colored and shaped lanterns in the streets and flickering candlelight. You can see a lot of people releasing their lanterns on the river to make a wish for the New Year. Or they enjoy the peaceful and marvelous views by taking a sampan ride on the river. This is not only a great way to grab a bit of space from the crowds but also a great way to enjoy the festival.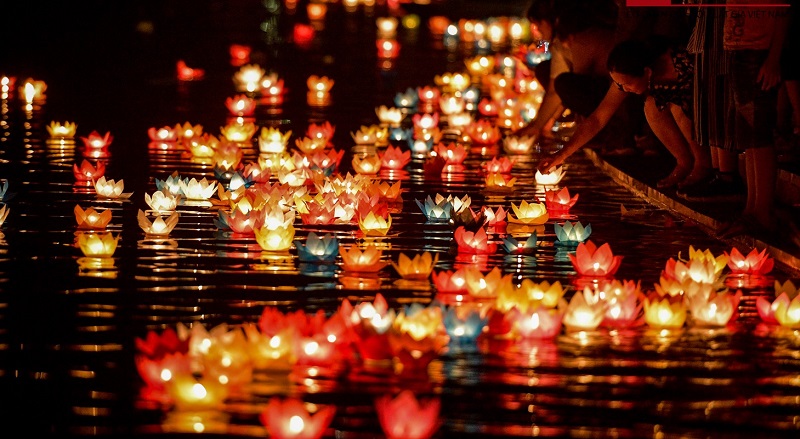 The highlights will be a lion dance performance on the streets and inviting tourists to join the holiday. Then, at the sacred moment of transferring from the old year to the new year, there will be fireworks lighting up the sky at the public places. Venues may be changed every year depending on availability every year. 
You can also choose to stop at a local homestay to enjoy a traditional and fun stay.
Alsahar Hoi An – The Miracle in Hoi An
Location: 77/5 Nguyen Duy Hieu, Cam Chau, Hoi An
Tel: 0905 519 971
When talking about a perfect combination of modern and classic, unique Moroccan style and romantic Hoi An Ancient Town, Alsahar Hoi An is one of the few villas that can meet the above criteria. On special occasions, the villa will redecorate the space, and of course, the most important holiday of the year like Tet, the decoration will be more special than ever. From small items to traditional plants at the villa, you can discover something interesting about the traditional festival here.
Villa is located 2km from Hoi An Ancient Town and 2.5km from An Bang beach. If you want to slowly walk around, admire the scenery and people in Hoi An, the villa always has free bicycles available for you.
If you feel a little lazy, want to take the time to heal yourself, build your soul, then rest assured, Alsahar always has everything you need. A fresh betel nut garden, filled with greenery, a relaxing jacuzzi massage pool and cool air are definitely what you look for this vacation. You can relax, take a bath at the lake and order an extra set of afternoon tea floating trays to experience more promotion.
At Alsahar Hoi An, an à la carte breakfast is also served. All you should do is rest comfortably, breakfast will be served to your room. Enjoying a strong cup of Hoi An coffee right at the super-wide and windy balcony is also a good idea. Each bedroom at Alsahar has a balcony and from here, you can watch the peaceful and beautiful Thu Bon river.
Alsahar has a total of 7 bedrooms with a maximum capacity for 14-16 people. In addition to the above facilities, the villa is also designed as a smart home, quiet and absolutely safe. Each bedroom is equipped with a private bathroom, smart TV with Netflix premium, air conditioning, ceiling fan, large wardrobe and free wifi. The sand castle always welcomes you.
3. Experience traditional customs during Tet
The locals place offering flowers, fruits, Chung cake- sticky rice cake wrapped in banana leaves, some candies and other cake on New Year's Eve. Then they burn offering papers and incense to make a wish and welcome to a greater year coming. In the first moments of the New Year's morning, family members will be together to drink cups of hot tea, enjoy sweet cake and different kinds of seeds( such as sunflower seeds, watermelon seeds, etc). Children will wish grandparents first, then parents and other people according to the family hierarchy. Exchanging Tet wishes and giving of "Red envelopes" containing Lucky money to each other.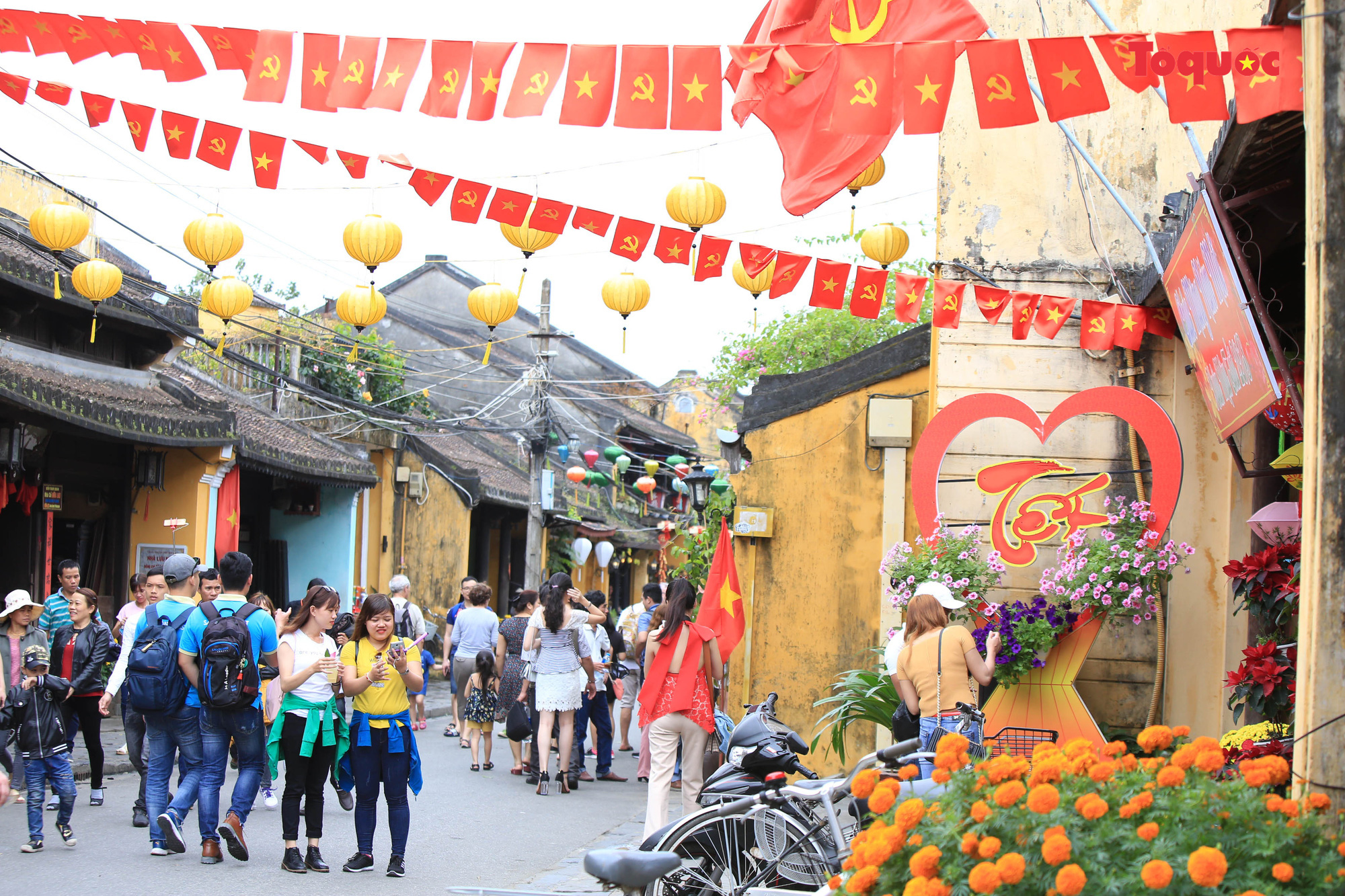 4. Join traditional activities
To maintain Tet tradition and serve tourists and local people, Hoi An ancient town, the atmosphere in parts of this small, animated with traditional folk games of Vietnamese taking place such as Bai Choi, lion dance, human chess, tug of war, racing boat, etc. Most of the traditional folk games were only seen in old documentaries and childhood memories of many locals. But now all the people have the chance to try and have fun. Don't miss this amazing opportunity to join a great fun and explore Vietnamese culture, these folk games and arts.
5. Visit temples and pagodas in Tet
Traditionally, during the first three days of The Lunar New Year, everyone goes to pagodas and temples to burn incense and pray for health, happiness, and prosperity, etc no matter how busy they are. Moreover, the best way to enjoy spring is wishing with your family. Then people will take a picture to capture these happy moments.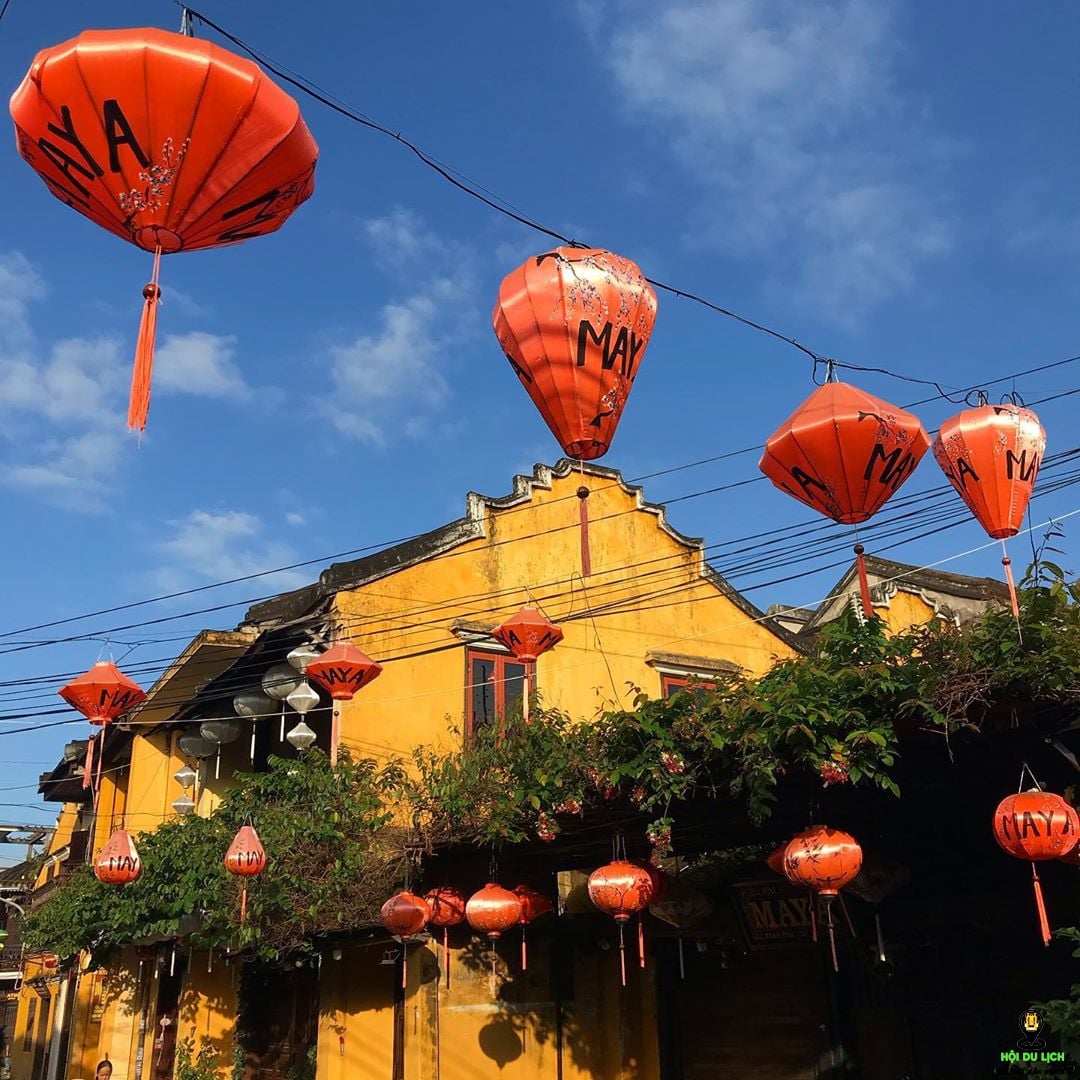 Tips: There are some taboos which you should not do. The first thing that does not say bad things during the Tet holiday. People always make wishes for others, not debate them. The second thing is not to wear black or white clothes because it is considered to be an unlucky sign. Last but not least, do not sweep the house in Tet Holiday because people believe that you are sweeping all luck and money out of their house. 
6. Learn How to Cook Delicious Vietnamese Food
Foodies and cooks rejoice as the availability of cooking classes is endless – you can choose from full-day classes, half-day classes, and even evening classes that only last one or two hours – and some of them even include boat trips and tours of a local market. You can learn to cook everything from grilled fish in banana leaves to Cao Lầu (a specialty dish unique to Hoi An) to Phở.
One of the best cooking class options available is the Hoi An Eco Cooking Class. This half-day experience begins with a hotel pick-up before heading to a local market. There you'll explore and experience the sights and sounds of the local market while getting tips about bargaining techniques. The experience doesn't stop there, as you'll hop into a traditional Vietnamese round boat then cruise through the river surrounded by nipa palms (mangrove palms).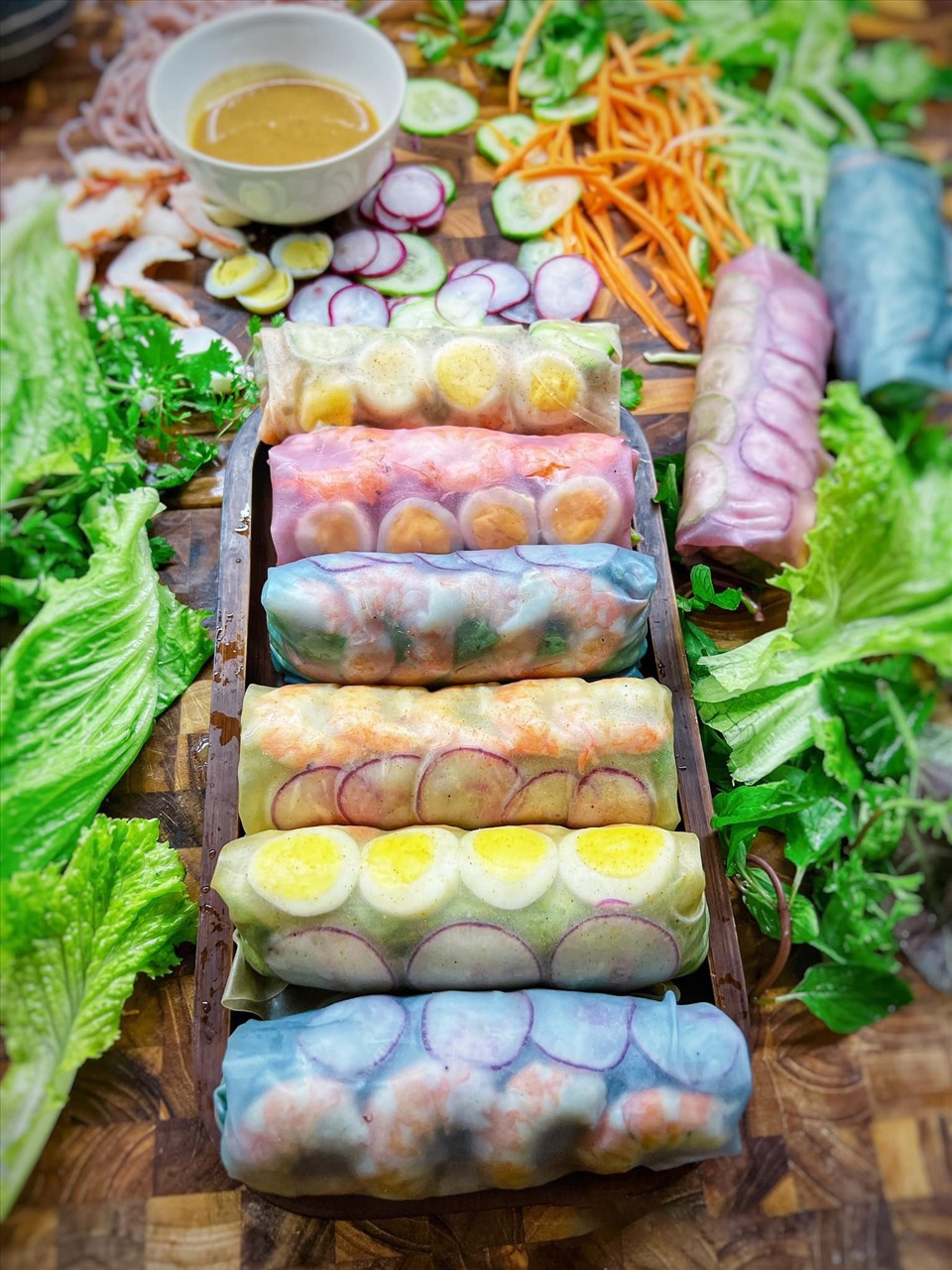 After relaxing on the boat and fishing for baby crabs, it's time to put on an apron and get cooking. In two hours you'll learn to make rice papers by hand and the secret art of making delicious Phở. The cooking continues with fresh spring rolls (Gỏi Cuốn), crispy sizzling Vietnamese pancakes (Bánh Xèo), banana flower salad (Gỏi Bắp Chuối), and more. We promise you won't leave hungry, but you will leave with a happy tummy and a taste of Vietnamese cuisine. This two-hour hands-on cooking class is also vegetarian friendly, and can cater to celiacs and other dietary requirements. If you are searching for a truly authentic Hoi An experience, this cooking class is a must.
7. Get a Tailor-Made Suit or Dress
The tailoring in Hoi An is known throughout the world. There are hundreds of tailors in the area ready to help you add to your wardrobe, and typically you can get a quality tailored suit or dress within 24-48 hours. It's one of the best things to do in Hoi An for everyone because they have shops for every price range. But with so many options, beware of the tourist traps that have no problem overcharging you and selling low-quality clothes.
Everyone from the hotel receptionist to the cab driver are likely to recommend a tailor because they earn commissions from tailor shops. Try to do your research before you arrive, and once you get there you can check out different places so you can bargain and test out fabrics. The best tailors are sure to provide excellent clothing and service that will make you remember Hoi An for years to come.
8. Get Crafty
One of the best things to do in Hoi An is to discover your inner artist. The culture and creativity here is undeniable. When you get crafty in Hoi An, not only will you have a unique souvenir to take home with you, but you'll learn more about their history, culture, and tradition in the process. Some of the most popular activities are lantern making, mask making, and bamboo carving.
Lanterns are especially popular in Asia – some believe they bring luck, happiness, and wealth – and there are even festivals dedicated to them, like Taiwan's annual Lantern Festival.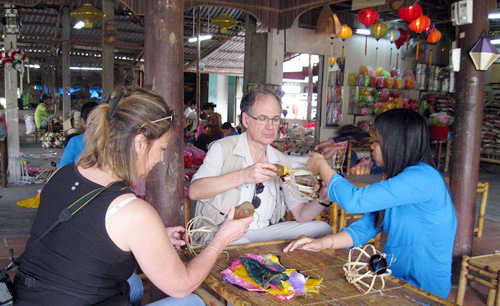 Mask making is one of the crafts that's great for the whole family. Some workshops even allow you to choose from an intensive mask-making course or a less structured mask-painting workshop that may be a better fit for the little ones.
For anyone interested in crafting your own creation with bamboo, Taboo Bamboo is where you need to be. At this workshop you can craft everything from a bamboo train to a natural amplifier for an iPhone. Getting crafty is a fun way to share in the culture of Hoi An.
Above are our suggestions to make your Hoi An discovery even more interesting. Hope you enjoyed the article '8 BEST THING TO DO IN HOI AN ON TET HOLIDAY'.
(This article is referenced from footstepsindochina.com & roadaffair.com)